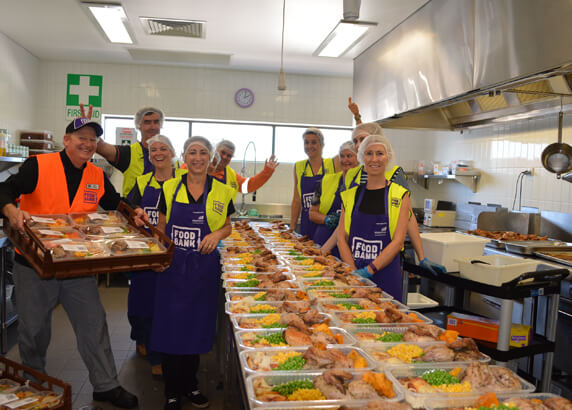 Foodbank WA's Community Kitchen Celebrates a Quarter of a Million Meals
12 August 2020
The state's largest hunger relief organisation Foodbank WA is celebrating providing a quarter of a million frozen meals to West Australians in need this week.
Foodbank WA's Community Kitchen Manager and an army of individual and corporate volunteers have turned 100,000 kilograms (100 tonne) of potential food waste into 250,000 ready-to-eat meals since opening the kitchen five years ago.
Foodbank WA's CEO Greg Hebble said they are incredibly proud to reach this milestone as it means that tens of thousands of individuals and families have benefited from the service.
"A quarter of million meals is a lot of meals and it doesn't happen without plenty of hard work. The kitchen is a hive of activity five days a week with volunteers busy preparing, cooking and packaging meals for distribution every week."
"The kitchen is another way that are able to provide more meals to more people and it has also helped us significantly reduce our own food waste, which is down from 11% to just 4%."
Foodbank WA's Kitchen Manager Chef Grant Longman coordinates teams of up to six volunteers daily. Together, they prepare, cook and package and freeze their meals on weekly basis so that they are ready for distribution the following week through Foodbank WA's six distribution centres located throughout in Perth, Albany, Bunbury, Geraldton, Kalgoorlie and Peel.
Foodbank WA's Chef Grant Longman said every day is different and it's such a rewarding experience for everyone involved.
"I have worked with countless volunteers over the years from corporate groups, regular volunteers, to return to work candidates and prisoners. The thing that I really love about the kitchen is that it doesn't matter who you are or how confident you are in the kitchen, people just roll up their sleeves and get the job done."
"Together we've created hundreds of different meal types, including family favourites like lasagne, pizza, casseroles, curries, bangers and mash. It really comes down to what product is available in our warehouse that week and we will come up with the idea for the dish around it to minimise our waste."
In addition to distributing the meals through their six distribution warehouses in metro and regional Western Australia, Foodbank WA also provides meals to people in need through their new Mobile Foodbank service which is now operating in twelve locations in Perth in partnership with local front line charities in areas of high need.
Foodbank WA has also recently formed partnerships with Cancer Council to provide meals to their patients and Cahoots Connects is a new service that delivers meals to vulnerable people at home.
"This is a really important time for us to thank volunteers past and present and to recognise the positive impact that their contribution has on those that receive the meals."
"We are also looking to secure a community kitchen sponsor who can assist us with purchasing essential ingredients and more sustainable packaging as we are aiming to double our production capacity," Mr Hebble said.
Today the ever-growing demand for food relief far outweighs Foodbank WA's supply of rescued and donated food, so the charity also fundraises to purchase food to bridge the gap.