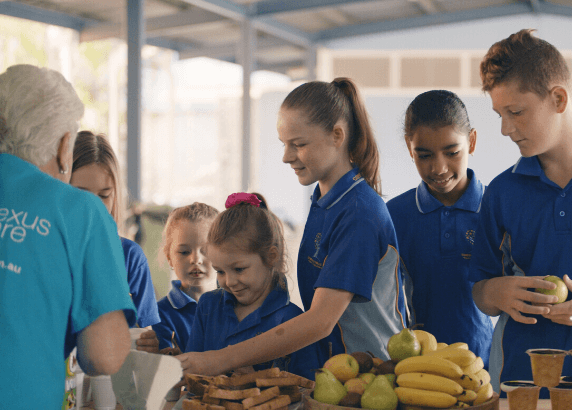 Brekky Club with Nexus Care
"we believe everyone has the right to healthy, nutritious food. Food is one of the fundamental necessities of life, not only impacting on our health and wellbeing, but also how we connect as a community.
When there's not enough to eat, the effects can be profound. We are privileged to provide Brekky Club at five schools, totalling up to 660 students each week. Last financial year we provided 22,500 breakfast meals in our Brekky Club schools. Not only are we providing a nutritional breakfast, the key word I use when describing Brekky Clubs is 'community'.
Smoothies are our most popular food within the primary schools. Two years ago, when we first introduced them, we struggled to distribute one blender of smoothie mix. We now mix up to six blenders of smoothie, loaded with fresh berries, banana, yoghurt and milk and regularly have the children comment on how great they taste.
One of our volunteers, Chris summed up what Brekky Club means to the schools and students, it is "One of the most amazing things I observe each week is the benefit of children coming together over a meal – it is a real connecting experience and one where each child does look out for another, but also helps them to be accountable (respectful, thankful and clean up after themselves).
I think fondly of how some of the quieter in nature, for whatever reason, grow in confidence when approaching the counter or table and asking for a piece of food or drink. Other children, it has been their opportunity to help with different aspects of the service, which makes them appreciate it more and not take for granted. Children also learn and know that if they want to participate in breakfast, then they have to do their bit, in being ready to leave for school on time – so it does reach into the home too.
I have also seen one young boy, managing his own nutritional needs due to an allergy – so good for his self-esteem and overall welfare. He confidently tells other children why he makes the food choices he does – so other kids learn and accept difference.
Then after all is said and eaten, a child will be more receptive to learn and participate in class, if they have a full tummy." Chris, Volunteer
Brekky Clubs are amazing and Nexus Care so appreciates our partnership with Foodbank to provide this service in the schools. Keep up the good work."
Suki O'Dea – Community Programs Coordinator – Nexus Care
To find out more about the Foodbank Queensland School Breakfast Program,