Can You Give a Feed this Christmas?
Support the families most in need this festive season
Give A Feed is a cause driven by some very passionate people ensuring that Festive hampers will be sent to West Australian families in need so they can celebrate the season, especially Christmas Day, and not go hungry.
Give a Feed started in 2012 by Wayne Smith and Aaron Pitt in conjunction with the Rotary Club of Heirisson and Foodbank WA. This year marks 11 years of the appeal, which at the end of last year, had provided 22,664 Hampers to families in need.
This year our target is to get 3000 hampers sponsored and sent out to families in time for Christmas Day. Currently nearly 2,000 hampers have been funded – with 1,000 to go and we need your help!  
These hampers provide the essential Christmas items for vulnerable families in WA to experience a festive meal as a family. Hampers are $30 each, so please spread the word.  
Donate to Give A Feed or donate one as a gift – the perfect Christmas present.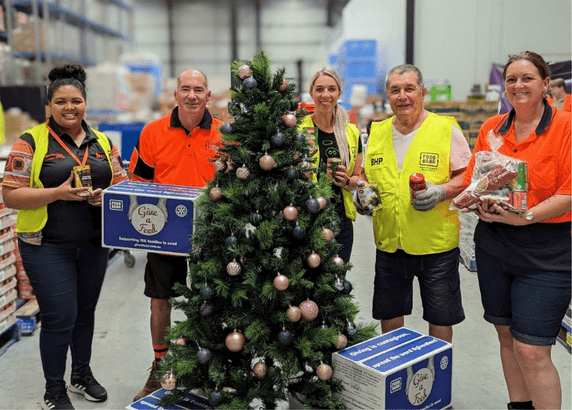 We have been fortunate to be supported by a number of Rotary Clubs to help sponsor and pack these hampers, along with some wonderful corporate volunteers without which this initiative wouldn't be possible. 
The hamper packing this year ran over an entire week with the amazing volunteers from some of this year's sponsors – Rotary Club of Heirisson, Charter Hall, Bankwest and Rotary Club of Applecross. It was great to see everyone collaborate for such a wonderful cause.   
Make Christmas brighter for a family in need