Foodbank WA is excited to offer our new Healthy Food for All Abilities program
This interactive food literacy and nutrition education program is designed to empower people with disability and their support workers with skills to enable them to choose and prepare healthy food.
Running over four weeks, the program offers 2 hour long sessions that includes a 30-minute nutrition educational activity, a hands-on cooking session learning new recipes before sitting to down to enjoy a meal they have cooked together.   
The program started in response to the continued inquiries about a food literacy program for people with disabilities, Foodbank WA researched and developed the project over two years before piloting the program in 2019 with clients from Ability WA. Evaluation from this pilot demonstrated that there was a strong need for the program.   
The many benefits of the program include improved food literacy skills, and basic nutrition knowledge and cooking skills to incorporate into everyday life. Feedback has been very positive with participants raving about how delicious the recipes are, the quality of the teaching materials and that it's a great opportunity to meet new people.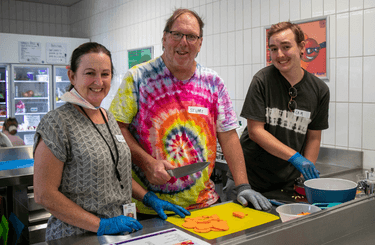 One of our participants Jessica said she has most enjoyed socialising with other participants, cooking and the friendly environment of the program. "I have enjoyed all the recipes we have cooked together. I also like the way they make me feel, I don't feel lethargic after eating them and the recipes we cook don't have any of the bad stuff in them – sugar, fat or salt!" Jessica said she now has a better understanding of nutrition and feels able to make better choices to avoid eating too much sugar, fat and salt.    
The program is free for all participants and is best suited to people who live independently or in shared accommodation. The program requires support workers to attend each session with participants, and this has proven to be a great experience for them too. The feedback from support workers is that they have really enjoyed mixing with the other clients and support workers in the program. Support work can be quite isolating so they have enjoyed connecting and forming friendships with the other participants and also the group learning environment. One support worker said she now feels more confident to assist her client to make better food choices. 
Help your fellow Australians in need – every $1 helps.