How Hakan gets food relief to those who need it
As the largest food relief organisation in NSW & ACT, we rely on incredible team members who work to source, supply, and transport food to those who need it.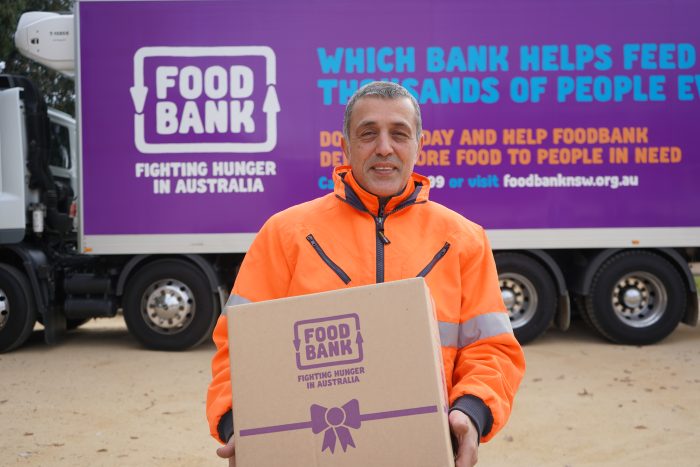 One such team member is Hakan. He's been a driver for Foodbank NSW & ACT for eight years, covering roughly 200,000kms in our iconic purple trucks. Hakan's days start at 6am with a prestart safety check, and most of his work is picking up vital donations and dropping them back at our warehouse in Glendenning, NSW for storage and inventory. The team there then gets it ready for agencies and charity partners to collect.
"I start early so that I can pick up all the donations of bread that we get, but then I'm heading to and from distribution centres for the rest of the day, doing anywhere from three to six pickups."
Hakan also drives out to regional areas across the state and territory to support our pop-up markets, as well as provide support to our communities in times of crisis. Depending on the community in need, this can mean days out on the road away from home.
I was up at Moree to support after the floods, and in Ivanhoe during the pandemic. We also dropped off hampers to apartments locally that were locked down during the pandemic.

I don't do them every time because I like to go home at the end of the day, but if it's an emergency, or the other drivers aren't available, then I'll do it. You've got to think about the people who are up there who need the food."
When supporting our pop-up markets, Hakan loads the truck with emergency hampers or fresh produce and drives them to our pop-up locations around the state and territory.
On the day of the pop-up market, he then works to unload the pallets from the truck and provides a helping hand to anyone who needs it; loading cars and even helping a community member change a flat tyre at the recent ACT pop-up.
Helping people gives you a good feeling after you've done it. You forget about all the problems and stress that life throws at you for that brief moment."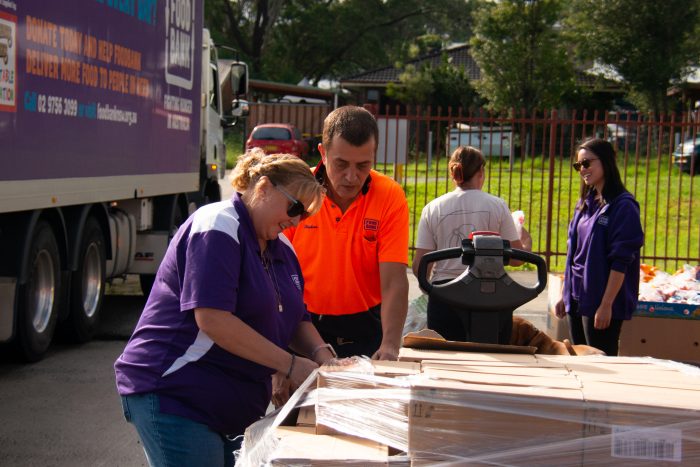 Hakan sheds light on the complexities of managing a truck and the kinds of challenges that he faces on a day-to-day basis.
"One of the things you have to think about is accessibility when it comes to getting our big trucks around, especially in inner city areas. Sometimes there's low lying trees, branches, powerlines or signs in the way and we have to plan our routes carefully thinking about low tunnels, bridges, truck-restricted or narrow roads.
You have to think about how much space you have allocated on the truck. You might show up to pick up a donation that was only allocated three pallets, but they've got six for you to take, and we can't say no to it, so you take it – you have to. And you just make it work. You go back and drop it off at the warehouse which takes a lot of time. And then you go back out and do the rest of the pickups.
We also have to be very careful with safety, making sure the load that we're carrying is properly restrained and that we're not overloading our trucks. We have to keep a logbook. There's a lot of technical calculations you need to do to make sure you're not overloading the front or back axles.
You just have to know that nothing ever really goes according to plan. So, you've got to be ready for the challenges."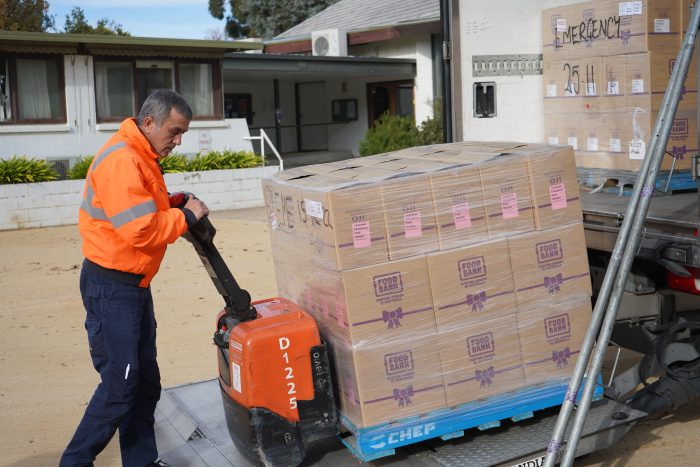 Despite the challenges, Hakan says there are plenty of things he loves about the job.
"The time goes really quick when you're doing this kind of work, you don't really realise the distance when you're going from one place to another. When you're on the road, you have to be vigilant, so it just goes quickly when you're busy. And I like the challenges too. It just makes you more aware of how important having a plan together is, and you just have to expect the worst, but hope for the best.
I like working for Foodbank. It's a good cause and the people I work with are great. At Foodbank, they care about their employee's wellbeing, they care about your safety."
We're so grateful to have incredible team members like Hakan, who are so committed to sourcing, supplying, and transporting food to those who need it across NSW & ACT, no matter who they are or where they live.
If you're interested in joining the team and becoming a volunteer driver, please visit this website.
Are you interested in becoming a volunteer driver?