Bringing nutrition education to Wiluna
The impact of Learn. Cook. Share. in a regional community
Located a 10–hour drive, North-East of Perth – in the centre of Western Australia – is the small town of Wiluna.
In recent months, the Shire of Wiluna invited us out for two week-long visits to run school holiday activity and cooking programs for the kids in the local community.
We ran stacks of activities, nutrition education and hands-on cooking classes for kids aged 4-18 to start discussions about healthy eating  and kitchen and food safety.
Each day, the delicious and healthy recipes from several of our recipe booklets were cooked, tasted and loved.
Kids that had been hesitant became inquisitive. Kids that had been disengaged got excited about cooking. Kids that had been shy were able to get comfortable and share their stories.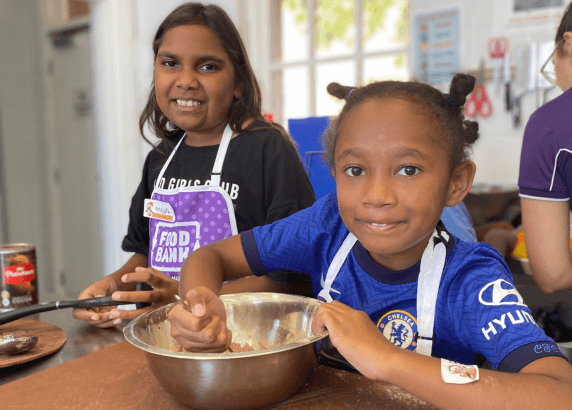 Afternoon teas ran each day and were another opportunity to build relationships and tuck into delicious foods. One 13 year old tried peaches "for the first time ever" in her life and couldn't help but return for more. Costing about $6.30 per tin at the shop, it wasn't surprising that the cooking program introduced a few foods, like the tinned peaches, that kids hadn't eaten before.
At the end of each week, everyone was invited to the 'Community Cook Up' breakfast, where a spread of tasty food brought people together – the perfect way to end a week, reflect on what the kids had learnt, enjoyed and work out what they wanted to do next.
Learning, cooking, sharing – over the course of a week kids created lasting memories and built their confidence, skills, knowledge and curiosity for food.
Most of all, they had fun.
Book nutrition education sessions for your own community