Les,
Perth WA
Les has been volunteering with us for just on three years now and is a favourite with both staff and volunteers alike. His friendly and engaging personality is the best of what we strive to provide for our customers.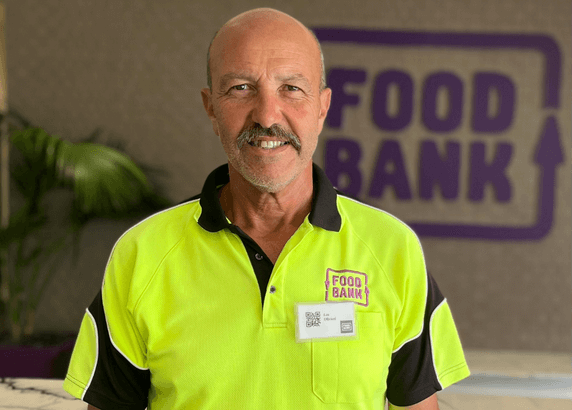 I love helping people and serving our customers. Speaking for the Mobile Foodbank, I think it's a great service and it is what keeps me coming back.
Les was introduced to Foodbank WA through some other volunteering he had done before he retired and after a few months off, called to ask about volunteering with us. He came in the next day to assist with our Mobile Foodbank, and the rest is history. 
Paired up with Stuart who has already been volunteering with us for some time, Stuart showed Les the ropes and they are still working together three years later.  
Being on the frontline, Les has noticed a big increase in customer numbers and volumes we have distributed in past six months. As well as regular customers, there are many new referrals every day now. Volumes have grown to the point where the trucks are getting to capacity with what can be loaded.  
Our Mobile Foodbank concept first launch in 2019 with four locations in the Perth metropolitan area. Our first Mobile Foodbank was built by a staff member who purchased items from Bunnings and fitted out the vehicle himself. The process of rolling out the service and getting a feel for the people, their needs and our hamper products was challenging to begin with. 
Les recalls the first vehicle he used on his initial runs, which was much like the first ever DIY vehicle which used to take a limited and basic range out to customers. Since then, we have expanded the range of packs that we take out to cover a wider variety of food and basic household goods that people need, and we graduated to an ex-Coles delivery truck donated by Budget Truck Rentals which was a huge improvement. Finally last year we upgraded to custom built trucks that are larger and fit for purpose for what we do thanks to Lotterywest funding grant. 
Les predicts that because of the ever-increasing volumes of food we are supplying though our Mobile Foodbanks, we will soon outgrow these trucks and may need to take two trucks on the one run on some of the days.  
Being front and centre in the community also means that Les talks to many of our customers and hears their stories. He's familiar with the many regular customers which he knows by name. He says that the Foodbank volunteers always try and be a friendly and comforting face to them.  
On a Tuesday Les volunteers with his wife, Julie, who the customers particularly love as she always shows great empathy. 
Les says, "Sometimes I think the little chat and arm around them is just as important as the food we provide. Some people are embarrassed to be having to come to Foodbank WA for help, but we do our best to welcome them, reassure them we are there to help and make the experience a good one." 
There are many different reasons people come to us for assistance. They can be illness or injury, physical or mental disability, addictions/recovery, loss of jobs or income, single parent homes, foster parents, grandparents caring for kids, pensioners struggling or just regular people doing it tough.  
In Les' experience, one recurrent problem of late seems to be with housing, cost of rents and rental housing availability which is putting a lot of financial stress on many people.  
Les says that while we do have many regular customers, there are also some people that come for a while and then we don't see them, and Les hopes this means that hopefully they are back on their feet again and no longer need us. 
For Les, the gratitude from our customers is what makes the job so enjoyable. He says that being able to provide the service across a wide section of the Perth metro area is so very helpful to many who have no or limited access to a car and can shop with us locally.  
The coverage of the Mobile Foodbank service coverage has expanded greatly since its inception, with 31 locations in the metro area and expansion into regional branches is full speed with 28 locations spread across our regional branches.
Read more of our Volunteer Stories