The Countdown is On for the PBN Inaugural Ball
Duc Pham and the Perth Business Network are here for those going without
Meet Duc Pham. Duc is the Director and Founder of Perth Business Network, a community of the most professional, progressive and engaging business owners who meet regularly to advocate for change, progression, innovation and to challenge the status quo.
In a wealthy state like ours, there is no need for anyone to go hungry.
Duc has been a proud ambassador for Foodbank WA for three years and is very committed and passionate about ensuring all Western Australians have access to healthy food, "The rising cost of living, particularly food and fuel, is significantly impacting the ability of struggling families to put food on the table. I am so pleased to be able to highlight the plight of struggling families, and in the process give them hope for a brighter future.
Duc's own incredible story of resilience began in the early 1980's, when he and his family left a war-torn Vietnam under the cover of darkness on an old wooden boat. Huddled up tightly with dozens of others and drifting helplessly on the high seas towards an approaching storm – the outlook was dismal. Divine intervention came in the form of opportunistic pirates who took what little the families had but towed their boat to the nearest island refugee camp.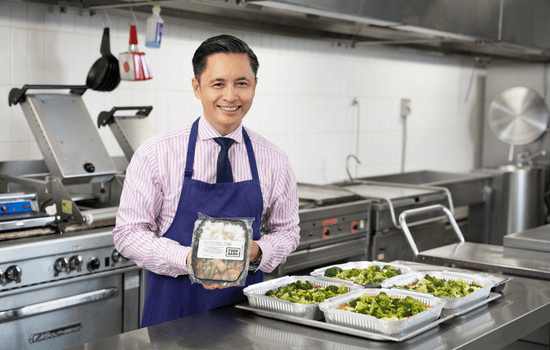 Eventually arriving in Perth without any possessions was certainly challenging – a new country, culture and language. Duc persevered and built his business up from the ground and in a way that can only be described as survival to success.
This year, PBN hosted the Inaugural Ball in support of Foodbank WA on the Saturday, 5 November at the Perth Convention Centre. It's an amazing opportunity for supporters to raise much need funds, and in the process acknowledge the work of Foodbank WA's volunteers, donors and staff.  The theme for the Ball was 'Survival To Success' depicting Duc's journey as a war refugee to a successful entrepreneur.
The Perth business community rallied behind this initiative, with many jumping on board as Event & Corporate Table Partners. To date, the Ball has raised more than $71,000 with a few donations still trickling in. View a video of the Ball here.
The incredible generosity of the corporate sector goes a long way to fighting hunger in our state, one meal at a time.