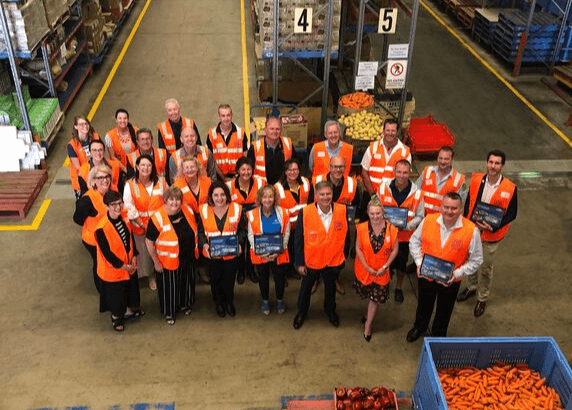 Press Release – Port of Brisbane
Port of Brisbane Pty Ltd (PBPL) announced the recipients of its annual Community Grant Funding for 2019 at the Foodbank Queensland distribution centre in Morningside – one of this year's grant recipients.
The annual Community Grants program provides a total of $100,000 in funding to not-for-profit organisations and registered charities that support important local and regional community initiatives.
In 2019/20 the funding will support twelve projects, helping recipients to build capacity and continue to deliver important community services.
PBPL CEO, Roy Cummins, said the Port of Brisbane had a long and proud history of supporting a wide range of organisations that deliver valuable community and environmental projects locally and across the region.
"Since 2011, Port of Brisbane has awarded around $2 million in sponsorships and initiatives to community sponsorships and initiatives across south-east Queensland," said Mr Cummins.
"Every year, our $100,000 Community Grant Program provides community organisations with a vital funding boost to help them continue their important work. This year's Port of Brisbane Community Grant recipients have put forward a range of innovative and exciting projects, and we are looking forward to working with our new partners as they deliver positive outcomes for the community. I would like to thank everyone here today, and all our partners, for their leadership in the community and wish them every success in the important work they do."
Foodbank Queensland CEO, Michael Rose, who spoke on behalf of all grant recipients, said the organisation was excited to receive a Port of Brisbane grant to enable the collection and purchase of food to support its charity partners, particularly those in regional areas.
"We rely on the generosity of corporate organisations like Port of Brisbane to support feeding hungry Queenslanders," said Mr Rose.  "Hunger is a hidden crisis in Australia, with 18% of Australians experiencing food insecurity or not knowing where their next meal is coming from in the past year. And Australians living in the country are 33% more likely to experience food insecurity than those living in the city. Through the support from Port of Brisbane, Foodbank Queensland will be able to continue supporting and in fact increase our support of areas where people are doing it tough, through the provision of shelf-stable food."
A full list of the 2019 Community Grant Recipients, and the initiative the grant funding is supporting, is listed below:
Foodbank Queensland – purchase of key staple foods to be distributed from our warehouse to charity partners locally and in regional areas.
Friends with Dignity – supporting the Sanctuary Program which recycles new and pre-loved household furniture to fully furnish homes to improve the lives of people displaced by family and domestic violence.
Volunteer Marine Rescue Brisbane – contributing to the service and maintenance of outboard motors and essential radio equipment.
Help Enterprises Limited – building a fully accessible pathway from the front to the rear of the Wynnum Hub which is currently uneven and in poor repair.
Point Lookout Surf Life Saving – repair of the club house veranda to ensure the structural safety and ongoing usability of the venue.
Wynnum State School – purchase of GPS trackers to support a fitness learning program.
Tingalpa State School – purchase of an outdoor soft fall area of 45sqm and play equipment to cater for students with additional needs.
Traction – supporting workshops which deliver tangible benefits for vulnerable young people and their families through hands-on, action-based education experiences including Bicycle Build, Boom Box, Small Engines and Permaculture programs.
Make it Home Safely – supporting disadvantaged young people in the Wynnum area completing 100 hours of driver training.
Coral Watch – supporting Coral Watch Ambassador Program in the Moreton Bay area.
Ocean Crusaders– removal of debris from the mangroves between Luggage and Juno Points.
Oz Fish – recycling oyster shell collected from wholesale oyster handlers and restaurants to use them to create shellfish reefs in Moreton Bay.