Supporting Queenslanders in times of need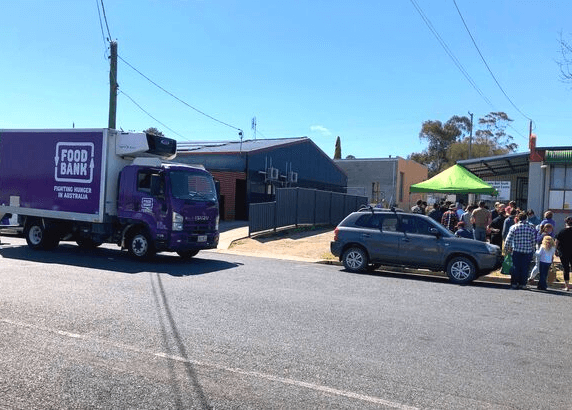 It's been a tough year for Queenslanders and when recent bushfires tore through southern parts of the state, Queenslanders once again rallied to support their neighbours. We've seen an outpouring of support to help those impacted get back on their feet.
People like Glenda Riley from Granite Belt Drought Relief who has helped to distribute more than 150,000 litres of water in a week. Our supporters at Schweppes Asahi donated 66 pallets of water and with free transportation from Toll, we were able to get much needed water out to Glenda and the Granite Belt community. An additional 42 pallets of water from Schweppes Asahi were trucked to Warwick, to support the Southern Downs District Council who would distribute to residents in need of water relief.
The Granite Belt Neighbourhood Centre hosted a Foodbank pop-up for the Stanthorpe Community. Our partner FareShare, cooked 2,000 ready-to-eat frozen meals from ingredients we supplied and Australian Pasteurised Eggs donated more than 17,200 eggs to the Stanthorpe and Canungra communities. We also provided food hampers filled with pantry staples.
We also met with Chris and Ian from the Granite Belt region. They have thrown open the doors to their home to help the local community access water, key pantry items, toiletries and other items that are in desperate need during an emergency. This is just one of the hundreds of stories about Queenslanders going above and beyond to help their neighbour and their community in times of need.
These stories highlight that anyone can need a hand-up and we, along with our supporters, are there to provide a helping hand. Together with your help to continue to support Queenslanders who are recovering from natural disasters. To donate funds, time or food get in touch with Foodbank Queensland today.