Always ready to respond
Making sure we have emergency relief hampers ready for distribution
In times of a natural disaster like bushfires, floods or cyclones, worrying about where your next meal will come from is the last thing anyone should have to do. That's why we're always prepared to distribute emergency relief hampers to those who need them most. 
Behind every emergency relief hamper is a finely orchestrated logistics process that ensures they are swiftly packed, loaded onto trucks, and distributed to those in need. We owe it all to our dedicated volunteers and fantastic distribution and logistics partners, who work together to make it happen. 
We truly believe in the power of collaboration – we couldn't do what we do without it – so in times of crisis, we work with Foodbank Australia through our national partnership to source key emergency relief products. This allows us to tap into a national network of large-scale suppliers, who send their products from the Eastern States for redistribution. As soon as the products are ready to go, they embark on their epic journey across the Nullarbor to reach our Perth warehouse, where we prepare them for delivery to communities in need.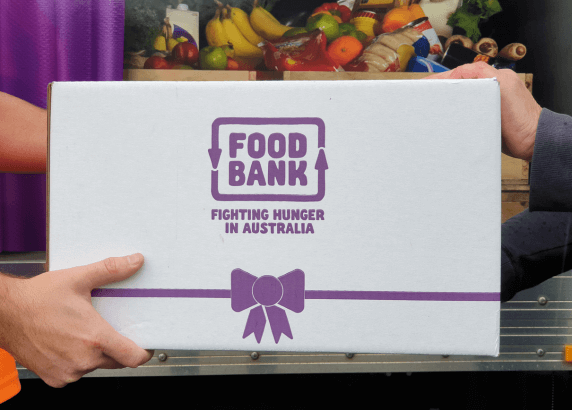 Every step of the way, we ensure that our products are meticulously unpacked, weighed, and prepared for redistribution. We want to make sure that each and every hamper is filled with care and thought, providing the nourishment and support that our communities need during tough times. 
Once the hampers are ready to go, it's time for our distribution and logistics partners to step in. They play a crucial role in ensuring that the hampers reach as close as possible to the areas where the need is greatest. Sometimes conventional transportation just isn't feasible, but that doesn't deter us. We collaborate with local emergency services and community resource centres, even using helicopters or boats, if necessary, to ensure that the hampers reach those who need them the most. 
The impact of an emergency hamper relief is profound. It's more than just food in a box – it's a symbol of hope and solidarity. With every hamper is a heartfelt promise to stand with our communities in their time of need and bring nourishment, comfort and hope.  
It's true that we can never predict what natural disaster might be just around the corner, but one thing is for sure – we'll be ready for whatever comes our way. With a certain amount of pre-packed hampers stockpiled and warehoused, we're here to respond swiftly to any emergency. 
Help us plan for emergencies