From setbacks to success – Amanda's story
Amanda's story about working at Foodbank WA
"Working at Foodbank WA?" Amanda leans in, her eyes brimming with excitement, "It's incredibly rewarding. It's honestly the best job I've ever had." But it's not just about the warm fuzzies; it's the satisfaction of making a real difference.
Amanda's journey to us is far from conventional. For 30 years, she was a skilled hairdresser, bringing joy to her community through her craft. But she wanted to do more, especially after some time in prison. "This is different," she says, "it's giving back to my community in a productive way. It's good for my soul."
Emerging from prison, she faced the challenge of finding her feet once again. And to make things even more difficult, she'd just battled cancer. Tough? You bet. But so is Amanda.
Reflecting on her journey, Amanda candidly shares her initial fears of re-entering the workforce after her time in prison;
"When I was in prison, I struggled to think of how I was going get a job and what I was going to do. With the cancer, I had no hair at that point and didn't feel confident to return to hairdressing. I wanted to find a job that would accept me and I thought "who's going to do that?" I didn't want them to look at me differently, and Foodbank hasn't."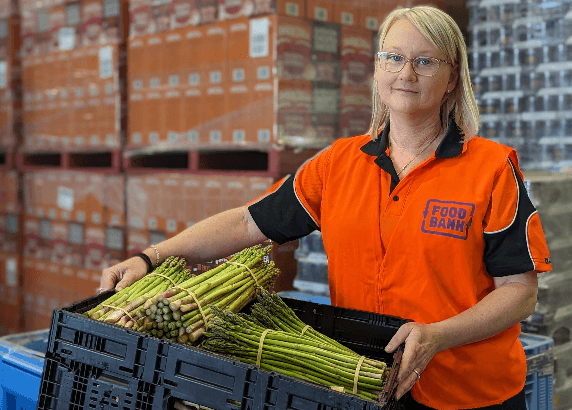 This isn't just a job; it's a mission. Amanda's role began in May and she admits to starting with little knowledge of warehousing. "I knew nothing about anything," she laughs. But she has embraced the learning curve with enthusiasm.
"I think something was just calling me to work here," she shares with a grin. And that something is the sense of purpose that fuels her every day. "Who cares if I'm tired?" she quips, "Every day, the work I'm doing means more families can put food on their tables that night and that's all that matters."
Amanda doesn't see this as just a job, it's a profound commitment. "When I was diagnosed, I thought to myself that if this was it, I haven't done what I wanted to do in this world and I want to give back so much more than I have. I felt that for such a long time I was helping the wrong people and I want to help the right people, the people who really need it, and this is the right place to do it."
"At Foodbank WA, we often say that our greatest strength lies in our people," shared Kate O'Hara, CEO of Foodbank WA. "Amanda's journey perfectly illustrates this. Her unwavering commitment to our cause, despite facing significant personal challenges, is a shining example of what it means to be part of our Foodbank family. We're honoured to have her with us."
Amanda's story is a poignant reminder that working for a non-profit organisation like Foodbank is not just a job; it's a purpose, a community, and the opportunity to make a real impact, even when life throws its curveballs. It's about making a meaningful difference, even when faced with personal challenges.
Keen to experience what Amanda loves about us? Sign up to volunteer