Beiersdorf announces official partnership with Foodbank Australia
Following over hundreds of thousands of product donations, Beiersdorf pledges additional support to Victoria during the current lockdown
31st August 2020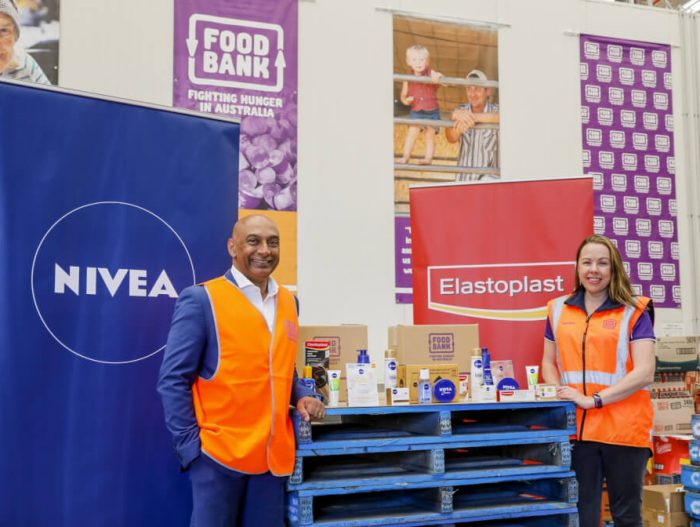 Clynton Bartholomeusz, Managing Director of Beiersdorf Australia (left), and Brianna Casey, CEO of Foodbank Australia (right), launching the partnership at Foodbank NSW & ACT
Today Beiersdorf Australia – manufacturer of NIVEA and Elastoplast products – has announced its official partnership with Foodbank Australia, the country's largest food and grocery relief organisation.
In 2020, Beiersdorf Australia has donated hundreds of thousands of products to Foodbank Australia, locally driving its 'Care Beyond Skin' program. Their most recent donation, just this month, is of over 50,000 personal care items, including hand sanitisers which will be distributed to those in need in Victoria.
Clynton Bartholomeusz, Managing Director of Beiersdorf Australia said, "For nearly 140 years, we at Beiersdorf have had 'care' at the heart of everything we do. Our purpose, Care Beyond Skin, not only expresses our passion for skincare, but it embodies our commitment to also caring for people and communities in need. That is why we are so pleased to become an official national donor with Foodbank Australia and support the important work they do."
This is not the first time Beiersdorf and Foodbank have joined forces. During this year's bushfire crisis, Beiersdorf donated thousands of products including Elastoplast essentials and NIVEA sun care.
Brianna Casey, CEO of Foodbank Australia said, "We are incredibly grateful for Beiersdorf's continual support and generous donations of skin and personal care products, and are delighted to be welcoming them as an official national donor."
"Thank you to everyone at Beiersdorf for your ongoing commitment to Foodbank Australia which enables us to support Australians doing it tough not only now but for the long term."
Globally, Beiersdorf has pledged 50 million Euros as an immediate international support program to help communities in their fight against COVID-19 pandemic. It will team up with international organisations as well as local authorities to bring the support to the people in need. The global immediate measures are:
Donation of 1,000,000 litres of disinfectant
Donation of at least 5,000,000 NIVEA skin and hand care products to medical staff all around the world
Direct financial support for NGOs, both international organisations as well as local partners of the Beiersdorf Group
Beiersdorf commits to double any employees' personal donations