"Food relief helped me piece my life back together again."
When Ben woke up one morning completely paralysed in the left arm and hand, his life changed forever. Ben was a thriving musician who had recently moved to Australia from Scotland to re-launch his career, when through no fault of his own, he was unable to work. Ben's injury meant he wouldn't be able to play his guitar for the next three long years. 
"In this time, I lost everything. When I could no longer play my guitar and do what I loved, my mental and physical health started to decline. I lost my income, my relationship spiralled downwards, and we ended up splitting up. I had nowhere to live and no money." – Ben  
"I ended up living in the bushes in Southbank for a while before I got a place in a dormitory with 80 other homeless people." – Ben  
Ben made a group of friends who introduced him to one of Foodbank Queensland's Member Charities providing food relief in the local community. Ben soon regained movement in his arm and hand and was able to play his guitar again.  
"I did the only thing that I could do, I busked. People would say, 'How come you're busking? You sound fantastic. What is a musician like you doing on the street?'. People were so kind. They would bring me their husband's clothes that he no longer wore, and stuff like that." – Ben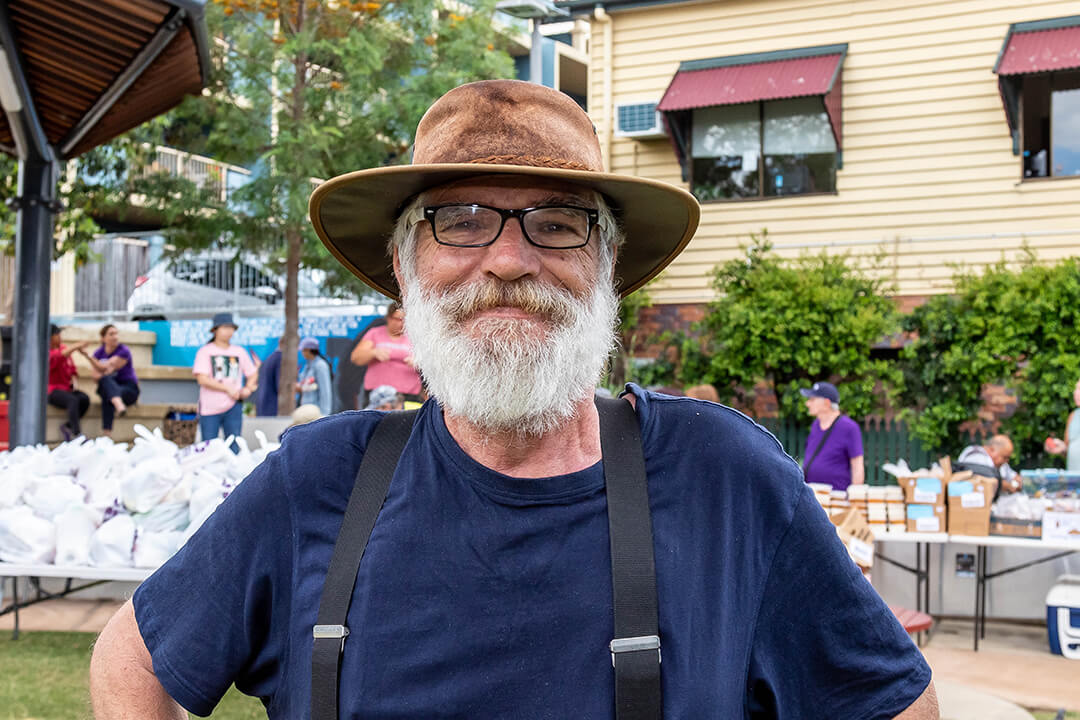 "Finding a local food relief charity was such a huge stress relief and also financial relief. Being able to depend on food from other sources helped me divert any funds I had towards essential items, like underwear, sock, and shoes, which otherwise I'd be spending on food. If you want to get back on your feet, you've got to be presentable, you've got to have deodorant and shoes. But if you're spending all your money on food, then you can't do those things." – Ben 
Being able to access nutritious food regularly helped put Ben on the road to recovery. He soon found a job and was able to do what he loved. He was earning a regular income and could once again afford food and essentials. 
Ben was so grateful and inspired by the support of the local food relief charity, that he now dedicates most of his time volunteering there to help others, just like him, facing severe hardship. 
"I'm doing better now, but I don't want to forget the people that put me back on my feet. That's why I'm here, doing anything I can to support those in need." – Ben 
Ben's outstanding voluntary work was recently recognised in the Griffith Australia Day Awards, acknowledging his devotion to supporting the homeless and disadvantaged within the West End region.  
"Homeless people, needy people – they are real people, with real needs, and they need real solutions. Foodbank and their donors are part of that solution, and I'm eternally grateful for it, because it does make a difference." – Ben 
Your generosity will help people like Ben receive the essential groceries they need to get back on their feet. Thank you for making a difference.
HELP HUNGRY QUEENSLANDERS LIKE BEN