Bertochhi Christmas Ham Glaze Recipe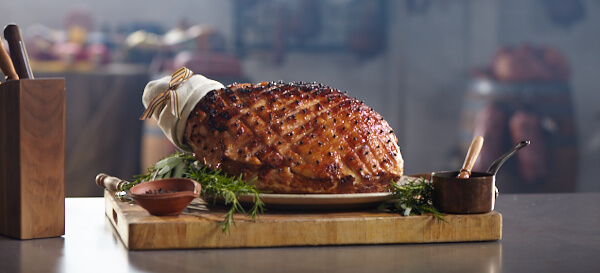 This Christmas, our friends at Bertocchi Smallgoods kindly donated hundreds of hams to help struggling families through the festive season (you may have seen this on the news).
We couldn't help but ask for their go-to Christmas Ham recipe – so here it is!
INGREDIENTS
1 Bertocchi or San Marino whole leg ham, on the bone (about 8-9kg)
1/2 cup brown sugar
1/4 cup marmalade
2 tablespoon Dijon mustard
Juice and zest of a large orange
Cloves to stud the ham
METHOD
Preheat oven to 170ºC.
Line a large baking dish with 2 layers of non-stick baking paper.
Place an oven shelf in the lowest position. Remove all other shelves.
Use a sharp knife to cut around the shank of the ham, about 10cm from the end. Then run the knife under the rind around edge of ham.
Gently lift the rind off in one piece by running your fingers between the rind and the fat.
Score the fat in a diamond pattern (45º angle), about 5mm deep.
Stud the centres of the diamonds with cloves. Transfer to prepared dish.
Combine brown sugar, marmalade, mustard, juice and zest in a saucepan and gently heat until the sugar has dissolved. Continue to cook until reduced slightly.
Brush one-third of the glaze over the ham. Bake, brushing with glaze every 15 minutes, for 1 hour and 15 minutes or until the ham is golden and cooked.
CARVING TIPS
Place ham skin side up. Then run a small, sharp knife under the rind around the bottom (opposite end to hock) and each side of the ham to about halfway up towards the hock. Peel the rind back.
Run the tip of the knife around the bone, on the underside of the ham. Begin to slice on a slight angle down to the bone.
Run your knife lengthways along the bone to remove slices. Continue to slice towards the hock.
Continue slicing down to the bone, working your way around the ham. When you've reached about a third to the way up, you can remove the bone by making a few short cuts at the joint.
STORAGE TIPS
Store in fridge at 4C or below.
Leave ham in plastic wrap until ready to use.
Discard plastic wrap prior to use.
After carving, store remainder of ham in damp 'ham bag' which has been lightly moistened with 75-25 water/white vinegar solution.
Refresh 'ham bag' with solution as above every 2 to 3 days to maximise shelf life.
Please ensure that the ham is refrigerated as soon as possible after carving.
ENJOY!