Giving Dignity and Hope
The last thing many think of is spending what money is available on personal items
When you are struggling to make ends meet and to put food on the table, chances are that there is not enough, or very little money each fortnight to allow for other household items that most people take for granted such as laundry powder, shampoo, deodorant, toilet paper and other personal care hygiene products not to mention 'luxury' items such as moisturisers or make-up.
When things are tough, money is short, rent needs to be paid, children need to be fed. The last thing our clients are thinking of, is spending what money is available personal items for themselves so they just go without.
Foodbank WA are able to supply personal care packages at $10, which is affordable and gives everyone a chance to purchase without the guilt and just makes things that little bit better.
The personal care packages contents vary but will usually contain deodorant, toothbrush and toothpaste, dental floss, female sanitary products, lip balm, shower wash, hairspray, moisturiser and  shampoo and conditioner. The retail value of these are often in excess of $70-$80.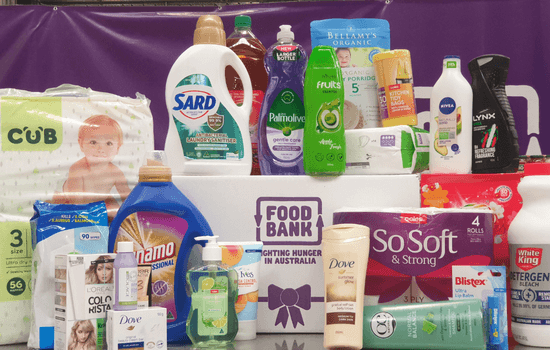 With cost-of-living pressures increasing on a seemingly weekly basis, we are increasingly making these basics accessible to low-income families and individuals. This helps children attend school feeling fresh so they feel comfortable in the learning environment and they assure adults have the dignity in their workplace or while trying to gain employment.
With these products we aim to bring improved health, hope and dignity to struggling children and adults. Everyone deserves to be clean and presentable – this can drastically change the trajectory of a person's life.
Personal hygiene products can help students and kids from being rejected or bullied and it allows them to be able to come to school with their heads held high; better prepared to learn while families living on the edge financially are able to have basic hygiene products available and breathe a sigh of relief knowing there is one less thing to worry about.
Donate personal care packages of your own