Filling tummies, fuelling minds
A trip with Alice Murray to a School Breakfast Program
Step into Roseworth Primary School's bustling cafeteria and you'll find more than just food – you'll discover a hub of nourishment and care that's been brightening young lives for over two decades. 
Recently, we had the privilege of joining their breakfast program with our Ambassador Alice Murray. What we experienced was more than just a breakfast club; it was a heartwarming exchange of compassion and kindness filling hungry tummies. 
Every morning, teachers wake up early to prepare a nutritious breakfast for the kids, ensuring no one starts school hungry. Donated food, often from local heroes like volunteers and community retailers, fuels the program, with a breakfast products and fresh fruit hamper provided by us each week. 
"There's no doubt filling the stomachs and the hearts of these kids before they start their school day has a positive impact on their learning," shared Alice.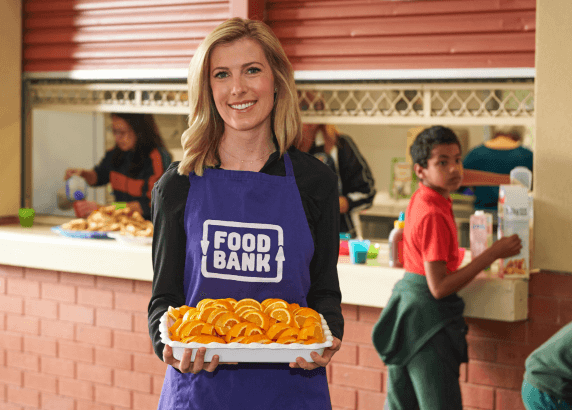 And there's no waste here – leftovers find new purpose in the school's canteen, offering emergency meals to students in need. If a student or their family is facing hardship, the canteen steps up to provide food without hesitation.  
This program's legacy is steeped in care and support, reaching back to the fusion of Hainsworth and Montrose Primary Schools, which became Roseworth. For over 20 years, it's been a constant in the Girrawheen community, providing nourishment and care to generations of students. 
And the attendance numbers speak volumes: 40 to 50 kids attend each morning, soaring to 100 some days during Winter.  
 "We've noticed the kids getting hungrier," noted one of the teachers. "They keep coming back for seconds and thirds, and that number is rising." 
But it's not just about the meal – the breakfast club nurtures life skills too. Beyond the classroom, students learn socialising and hygiene practices in a nurturing and caring environment, guided by compassionate teachers who have stepped up to offer more than just education. 
"It's clear that the program is essential to nurture school kids and ready them for a day of learning – but on attending Roseworth Primary with Foodbank WA, I realised that the program also provides a community for these children. It's a few relaxed moments – a safe space, where they can connect with their peers, carers and teachers," said Alice. 
Learn more about the School Breakfast Program