Demand for food relief in the ACT continues to grow, with Foodbank now sending 40% more food to the territory than last year – an increase of 11% since just last month.
Foodbank NSW & ACT CEO, John Robertson says, "This is incredibly concerning, because while demand continues to rise week on week, the support we get from the ACT Government is set to end in a matter of days."
For the last decade, local pantries supplied by Foodbank in ACT are accessing a freight subsidy under the ACT Government Food Assistance program. This subsidy ends in June. Funding for the program is provided to support local pantries across the ACT to access food relief supplies from Foodbank NSW & ACT. Due to the recent increase in fuel costs and cost per pallet, the funding allocation for the program has been exhausted well in advance of June 2023.
For the majority of our community partner charities, accessing groceries and produce through Foodbank NSW & ACT is the most efficient way for them to access supplies, particularly pantry staples in the ACT. But we won't be able to get food to them if we don't have the funding. Most local pantries are entirely dependent on the Food Assistance program and would not be able to absorb part or full costs of freight."
says Mr Robertson.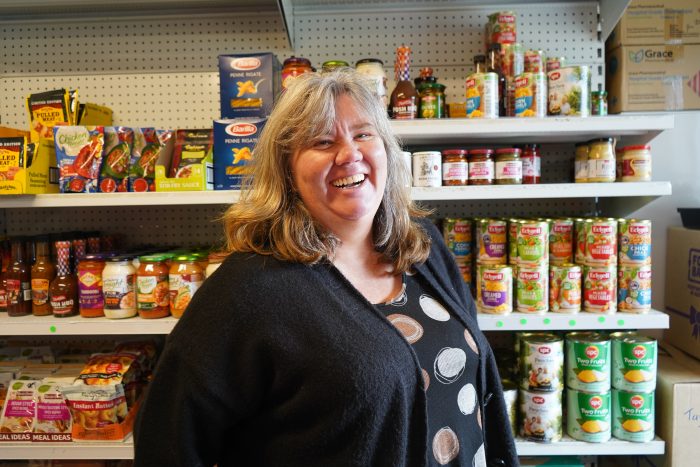 Kirsty Baker runs local pantry, Tuckerbox at the Holy Cross Anglican Church in Hackett. She is witnessing first-hand the growing need in her community:
Things are getting desperate. More and more people in our community are in need. We have already been struggling to keep up and we know it's getting worse by the day. Food has always been a discretionary spend when you don't have money, but now even the basics are becoming such a luxury. We recently spoke with someone who is feeding their dog Weetbix and eating dry cereal because even milk is too expensive.

At Tuckerbox, we are the fence at the top of the cliff, not the ambulance waiting at the bottom – we are trying to stop people falling in the first place. The Food Assistance Program has meant that for $40,000 a year we have been able to conservatively supply half a million dollars in food for those in need. But that will all change."
We're bracing for the despair, mental health issues, and broader health outcomes, especially as we come into winter. We're already struggling to get food to everyone who needs it, so we simply can't imagine what it will be like if the funding stops."
Mr Robertson says, "It's essentially five minutes to midnight yet we've been in conversations with government about this for over eight months. Without commitment from the ACT Government to continue the program, this kind of support in the ACT will disappear, putting multiple organisations and thousands of people at risk of not being able to access food."
In response to the worrying rise in demand for food in the territory, Foodbank NSW & ACT distributed 630 food hampers for free to community members doing it tough.
"The situation is dire. We're doing everything we can, and we're now resorting to getting hampers to people who can no longer put food on the table. Soon they might have nowhere else to turn, and we will no longer be able to support in this way if the funding we so desperately need isn't forthcoming," Mr Robertson concludes.