Foodbank WA has collaborated with Albany's Secondary Education Support Centre (ASESC) to deliver
Food Sensations®
for Schools online for the first time. 
The Albany Secondary Education Support Centre was scheduled as part of a regional trip through the Great Southern and Wheatbelt, but rising COVID cases and strict visitation restrictions led to the trip being cancelled. When we broke the news to Deb Guest, Administrative Support Officer at ASESC she was enthusiastic about looking for other options. Being so far away from Perth already limits opportunities for incursions and special guests, so Deb was keen to make sure the students didn't miss out.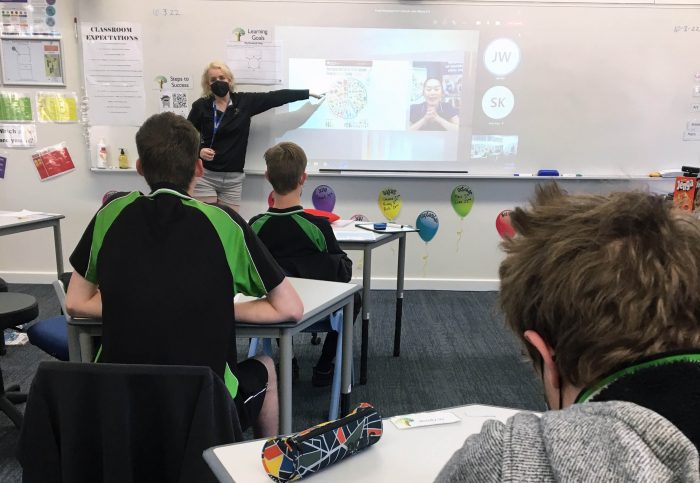 While our other Food Sensations classes have already been running online through the pandemic, this is a first for our school program. School sessions can have up to 30 students and even in person, it's difficult to maintain engagement with an entire classroom of kids. A group of 6 year ten students were given the opportunity to take part in the trial. 
It was clear from the very start of the session that the teacher would play a very important role in maintaining engagement with the students. Participants shared one microphone for the session with their teacher Deb acting as a communication medium. Deb repeated questions and answers where required, encouraged students throughout the session and helped our facilitator keep track of who was speaking. 
Our Food Sensations sessions are very hands-on and Deb and our facilitator worked to keep as much of the practical side included as possible. Students had fun completing the "Sugar in Drinks" activity with the school providing the basic resources needed such as sugar and cups.  
 Normally our sessions include cooking, with our facilitators assisting students at the different cooking stations and educating them while doing so. This is a lot for one teacher to manage on their own, so this wasn't included in our online session. We are brainstorming in the hope of finding a suitable solution for future classes. 
A big hit with the kids was a quiz – not a test – just for fun. A bit of friendly competition paired with background music soon got them re-energised while refreshing their nutritional knowledge. 
The trial session was a success. While nothing beats face-to-face learning, it's great to know that we can offer an alternative. After the session, we received an email from Deb at ASESC:
"Thanks once again. Not only was it a fantastic success at our end, but you have also got the staff talking about the endless opportunities to connect with all types of people, specialists, experts and engaging people who we would otherwise not have the opportunity to interact with primarily due to distance." 
This trial has opened up new possibilities for us too. We extend our thanks to Deb and the staff at The Albany Secondary Education Support Centre. Their enthusiasm and efforts have helped us lay the groundwork for other schools, ensuring healthier futures for more Western Australian kids.