Thank you for giving food and hope to flood affected Queenslanders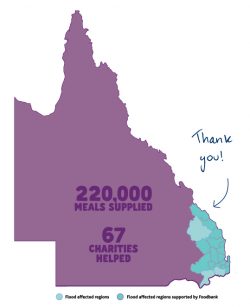 In early March 2022, Foodbank Queensland launched a Flood Appeal to help get emergency food and drinking water to flood affected Queenslanders in desperate need. Sadly, many Foodbank Member Charities were contacting us for more food, well above our standard supply volumes, due to an increased community need, flooded food stock and damaged facilities.
That's why your support was so important. Thanks to our generous supporters, more than 220,000 meals have been supplied to the impacted regions across our state over five months, from March to July 2022.
As Queensland's largest and most connected hunger relief charity, Foodbank continues to have a vital role to play. We know that flood recovery will take many months, and sadly for some families, home repairs will span years. We will continue working hard with our frontline Member Charities to support these communities with additional food supplies to meet demand, thanks to the support of our donors and the tireless work of many volunteers.
In these times of crisis, we are so grateful to have your support!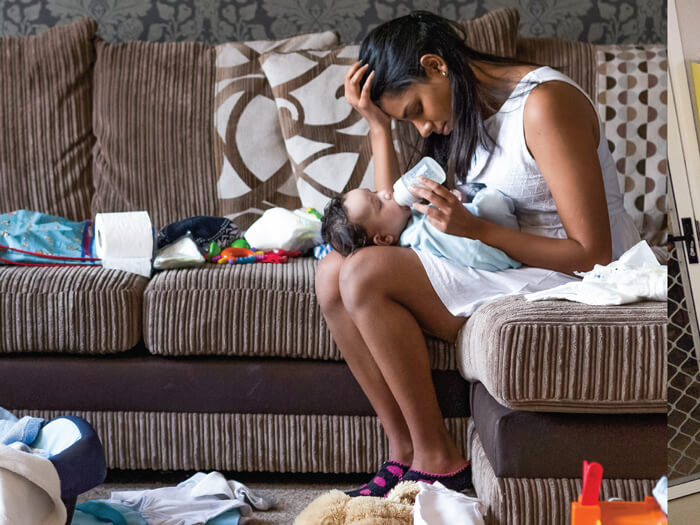 Thanks to you, Andrea had food for her children!
When the devastating floods arrived in her hometown, Andrea and her children lost everything – Andrea's family home was destroyed, and all their food and belongings were ruined. As a young single mum, Andrea didn't know how she would feed her children. Fortunately, thanks to your generosity, Andrea was able to access emergency food from a local Foodbank Member Charity.
"I'd lost everything. Getting help to feed my family gave me hope, trust and faith." – Andrea*
*This is a real Queensland story of hardship. Andrea's name is changed to her protect identity.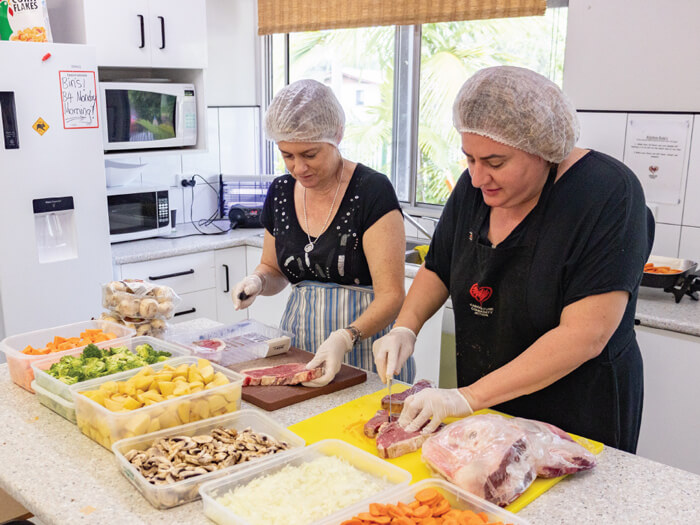 Member Charities could keep serving meals!
"The floods have affected people from all walks of life. We've had people coming to us hungry who were well off before. I feel grateful, thankful and blessed that Foodbank's donors are helping us support our fellow community members who are living with severe hardship." – Silvana, Caboolture Community Action
Your generosity helps Foodbank provide emergency food and groceries to frontline charities across the state, like Caboolture Community Action, to support Queenslanders experiencing a crisis.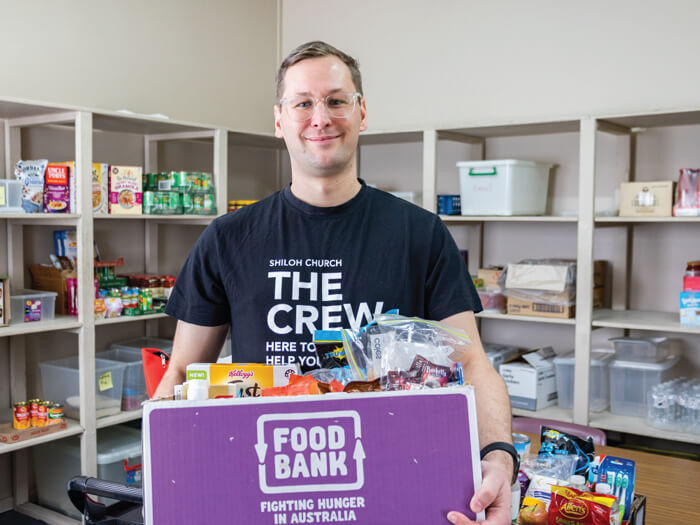 You helped flooded communities pull through!
With families forced to evacuate homes and food destroyed in the floods, requests for food relief skyrocketed. Thanks to your support, Foodbank could supply Member Charities like Shiloh Christian Care with emergency food for all those going hungry.
"After people had endured days of bad news, getting an emergency food hamper told them somebody out there loves them and cares about them. When you feel like you're so alone, surrounded by flood waters and rain and all that scary stuff, it's such a powerful thing." – Pastor Phil, Shiloh Christian Care (pictured). Click here to read the full story.