A message from Foodbank Queensland CEO
To all of our valued supporters, I have recently made the difficult decision to step down as CEO after three years at the helm, with my last day being 27 April 2023.
My time as CEO at Foodbank Queensland has been full of wonderful challenges, lots of learnings and many incredible partnerships. Over these past few years, Foodbank Queensland has undertaken a rare cultural and operational transformation. Foodbank continues to go from strength to strength and is a wonderful place to work. There are some exciting elements of strategy coming to fruition for Foodbank Queensland, and with a strong leadership team and our community of Queensland supporters, I believe it will be a joyful role for a new CEO to come into.
I am proud to have been part of such an incredible team working tirelessly and passionately to give food and hope to thousands of Queenslanders in need every week. I will continue working with the team and the Board to ensure a smooth transition to a new leader. As for my next move, after many years as a CEO, I am moving on to pursue my passion areas of executive coaching and Board directorship.
Thank you for your continued generosity commitment to Foodbank. Thanks to your kindness, we can continue feeding Queenslanders in need every day.
– Sara Harrup, Foodbank Queensland CEO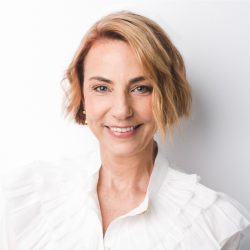 A Snapshot of Foodbank Queensland's Journey Since 2020
The Foodbank team wishes to thank departing CEO Sara Harrup for her leadership. Here's what we have achieved together since Sara commenced in early 2020.
We increased our impact
Feeding Families – 77 million meals created for Queenslanders in need
Saving Food – 39 million kgs of food saved from landfill
Saving Water – 2,600 Olympic swimming pools of water conserved
Saving the Planet – 780,000 petrol tanks worth of emission saved
Metrics from February 2020 to February 2023
We set a new strategic direction
In the last three years, Sara Harrup has worked with the Foodbank Queensland team and the Board to implement many large projects with very disciplined strategy execution. A strategic goal was set to create a sustainable, nutritious, and dignified food and safety net for Queenslanders in need.
Foodbank Queensland Chair Mike Hill said Sara Harrup has successfully transformed Foodbank Queensland's operations to be even more efficient and effective and is leaving the organisation in a wonderful place with a five-year strategy underway.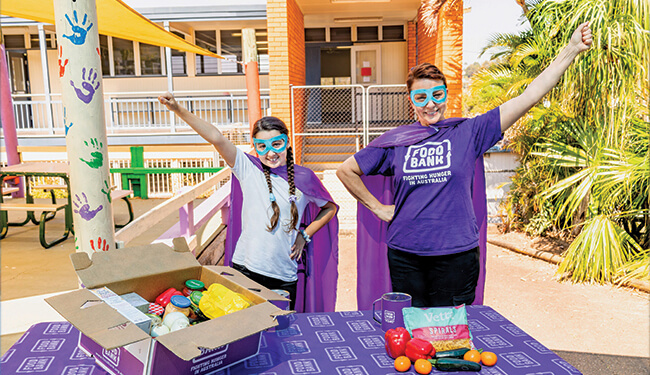 If we reflect on what Foodbank Queensland was like when Sara Harrup arrived and where it is today, Sara's achievements have been immense and the legacy profound. Sara has guided Foodbank Queensland through considerable change and challenged the status quo, which has required the patience and support of our employees, volunteers, food donors and Member Charities. Sara leaves a proud record knowing that Foodbank Queensland today is a much more capable organisation ready to meet the rising demand for our services, to respond to emergency weather events, and to also prepare us for the implementation of many more necessary projects on the horizon. – Mike Hill, Chair
Forming a strong team to lead Foodbank forward
Sara Harrup built a strong Senior Leadership Team and broader Foodbank team, engaging with experts in their fields and making hard decisions to help us achieve our vision of a Queensland without hunger. The team have brought incredible collective knowledge to the organisation and have really pushed Foodbank Queensland into very contemporary ways of working. Foodbank Queensland Head of People and Culture Jill Mee said Sara Harrup has led and coached the Senior Leadership Team to achieve the extraordinary.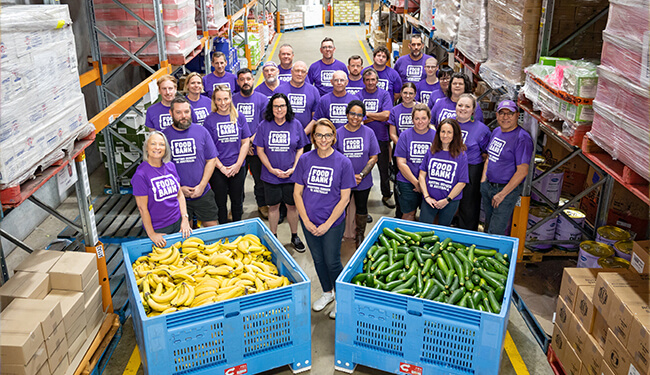 Sara Harrup draws on the expertise around her to achieve and go beyond the strategic goals set. She makes you better at your job, and personally invests in every person; she pushes, challenges, is always curious and celebrates when we achieve what we set out to . Often what comes out of our achievements is another set of goals because of her drive for continuous improvement. Sara operates from a place of deep empathy, authenticity, and kindness, with an overlay of fairness, justice, and accountability. Sara has transformed Foodbank Queensland in three years, and she has done that by enabling everyone to perform at their very best. – Jill Mee, Head of People and Culture
We welcomed new volunteers
Since early 2020, we have welcomed hundreds of incredible volunteers, building a strong, aligned volunteer team who have contributed significantly to the work of Foodbank Queensland. "Choosing to volunteer for Foodbank Queensland was one of the best decisions I've made. The people are lovely, the work is interesting, and it is a great cause. I found it so rewarding that I recently encouraged my husband to consider volunteering as well." – Louise, Volunteer. "The overwhelming positives that I feel from volunteering at Foodbank are the gratitude and respect that are afforded to all the volunteers. This culture is demonstrated by all levels of management and is obvious to all workers, volunteers and clients." – Margaret, Volunteer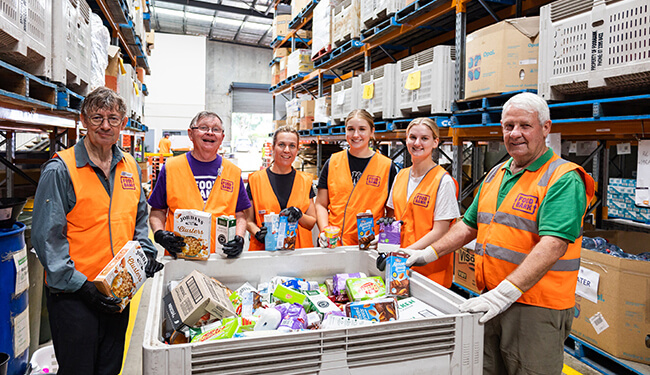 Sara has a strong track record of championing volunteering and a deep understanding of the value volunteers bring to an organisation and its culture. Over the last three years as CEO, Sara spearheaded systematic transformation of the volunteer program to align with the values and principles defined in the National Standards for Volunteer Involvement. Under her stewardship, we saw a robust, resilient, integrated, inclusive and values-led volunteer program emerge to support Foodbank Queensland through the ups and downs of COVID-19, the 2022 floods and planned organisational transformation. – Ryan Wright, Strategy and Innovation Lead
We embarked on a digital transformation
Under Sara Harrup's leadership, Foodbank Queensland has gone from a paper based, person led organisation, to one that has solid processes, information sharing and consistency. The implementation of workforce management software and business management software, as well as the rebuild of our customer relationship management software has created incredible efficiencies at Foodbank Queensland.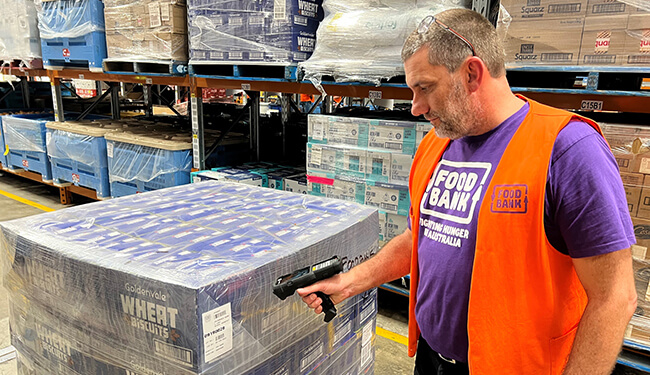 The recent implementation of an online ordering system at Foodbank Queensland has transformed the way we work. Our receivals, dispatch and storage processes have all been digitalised with each food delivery being completed via a radio frequency (RF) scanner. At our Food Distribution Centre, food pallets are now tracked, food pallet bays are location controlled, and we have RF scanners telling our forklift drivers where to go to find and place food items. This has streamlined our processes, enabling us to distribute more food to those in need.  – Nathan Gregory, Operations Manager
We became a culturally safety centric organisation
Sara Harrup has led Foodbank Queensland's Workplace Health and Safety (WHS) system into a place where we are now at an incredibly high standard consistent with The International Organisation of Standards (ISO). Foodbank Queensland Chief Operating Officer Saul Martinez said Foodbank has developed a robust program for the care and wellbeing of all workplace participants.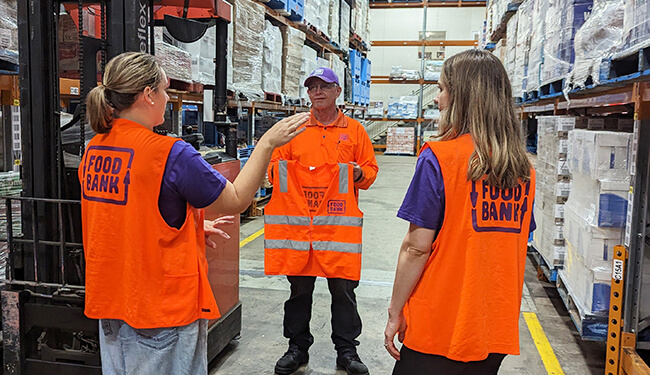 Sara's uncompromised commitment to offering all staff, volunteers and visitors a safe workplace has resulted in the establishment of a comprehensive suite of integrated policies, procedures, training programs, and whole of organisation discussion forums. This is demonstrated when as part of day-to-day activities, stakeholders actively participate and raise concerns with the confidence that they will be heard and their feedback valued. On multiple occasions, third party auditors and government officials have recognised and commended the high standards of our system and our proactiveness and disposition for continuous improvement. Sara's leadership has been central to these achievements. – Saul Martinez, Chief Operating Officer
We built new relationships – Thank you to our partners!
Thank you to all our incredible supporters for your continued generosity. In the last three years we have built so many strong partnerships, supporting multilevel relationships with partners including government, corporate partners, philanthropists and people who provide probono support. Each and every partnership has been vital in helping us get more food out the door to Queenslanders who need it most. MinterEllison is one of our partners who has helped Foodbank Queensland evolve: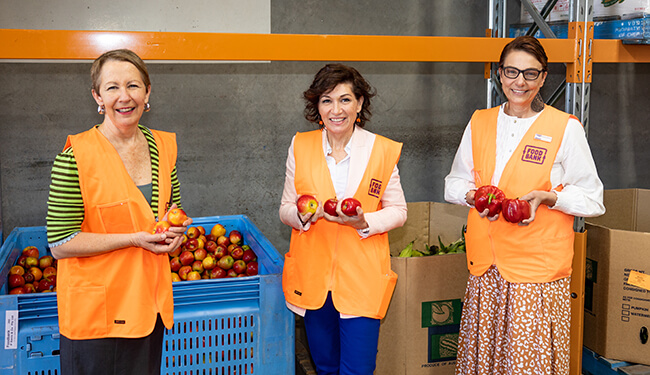 It has been energising for us to work alongside Sara Harrup and the team at Foodbank Queensland over the last three years of transformation for the organisation, providing our people with the opportunity to use their legal and technology skills to assist Foodbank Queensland in its journey, even in the face of challenges brought about by floods and the pandemic. We are very grateful that Sara introduced us to Foodbank Queensland and so ably developed and led our partnership – one that is now firmly embedded with us. – Robert Reed OAM, MinterEllison
And thank you to our Member Charities!
Foodbank's Member Charities play a vital role in the fight against hunger in our state. That's why they have been at the heart of every decision we have made to ensure we help even more Queenslanders facing hardship. Foodbank Queensland Member Engagement Manager Therese O'Conner said we couldn't support so many people in need without our wonderful community of Member Charities.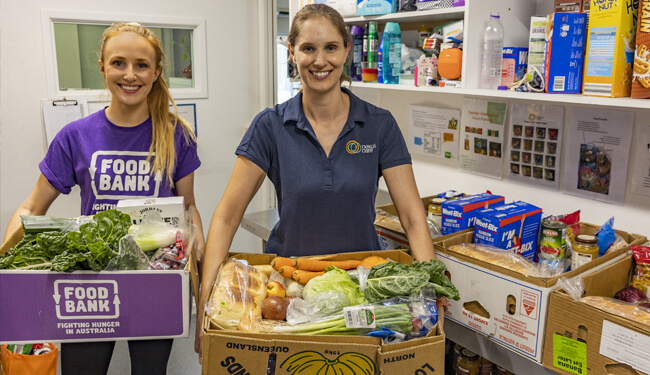 In the last few years, we have grown to service 350 frontline charities and 300 schools across the state, providing essential food and groceries to support their critical food relief programs. It's our Member Charities' tireless work that motivates us, informs us and keeps us striving to be better. Working together, we can give food and hope to thousands of struggling Queenslanders every week. – Therese O'Connor, Member Engagement Manager