Foodbank Queensland welcomes new CEO
We are pleased to announce, and officially welcome, Foodbank Queensland's new Chief Executive Officer, Jess Watkinson!
Jess is joining Foodbank Queensland at an exciting time, as we work towards our 5-year strategic goal of creating a sustainable, nutritious, and dignified food and grocery safety net for Queenslanders in need.
This last year has been one of striving to meet the increase in demand for our services. Our ability to provide food relief for vulnerable people has been impacted by housing and accommodation affordability plummeting, and cost of living pressures increasing significantly. However, despite the pressures, we continue to keep our eye on the future and how we can support our Member Charities and their communities better, while also rising to the challenge of alleviating the distress experienced by a growing number of people.
Jess comes to Foodbank with over 20 years' experience in Government and non-profit roles, having supported many organisations with capacity building, strategy development and growth, and is excited to be part of such an important organisation.
I love working with passionate people, who together want to make a difference. I am looking forward to collaborating with our staff, volunteers, supporters and Member Charities to maximise our impact as we strive towards a Queensland without hunger. All of my life experience – professional, personal and as a volunteer – will help me in being the best leader I can be for Foodbank. – Jess Watkinson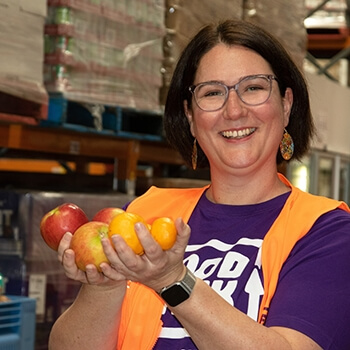 Jess officially commenced with Foodbank Queensland on May 31 2023.