Foodbank WA representation interstate
Meeting those who could join us as food donors
Our teams have been on the move a bit recently. It's been exciting to see Cath deliver our very first interstate nutrition education program in Adelaide over the last month. Hopefully with many more to come.
We have also had two of our passionate and talented staff, Latisha and Mike, travel to South Australia to attend Hort Connections, Australia and New Zealand largest horticulture conference and trade show. It was an excellent opportunity for professional development, an opportunity to hear from world-class experts on a range of topics including transformative research, global innovations, consumption trends and export development and also for networking with the largest cohort of industry stakeholders in the horticulture sector. 
The conference recognised all areas of horticulture bringing together members from right across the vegetable, fruit and floral sectors. Hort Connections showcased exciting new products, services and technologies to help shape the Australian and New Zealand industry – highlighting solutions in agricultural technology, finance, labour, energy and environmental sustainability.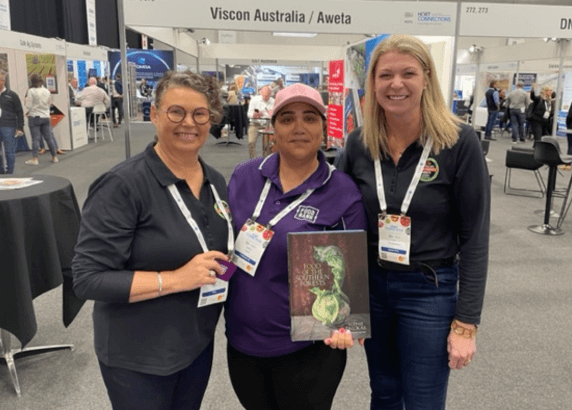 Both Mike and Latisha said that the conference was a great opportunity to build relationships with fruit and veg growers to benefit us here in Western Australia, and also to gain knowledge of best practise for fruit and veg sorting and presentation. 
One of the strangest things they saw? Ice cream featuring pumpkin and cauliflower. The two bespoke gelato flavours – cauliflower-vanilla bean and pumpkin-gingerbread – are harmonious savoury-meets-sweet flavour combinations.  
Developed through not-for-profit Research and Development Corporation Hort Innovation, in partnership with a grower-owned vegetable waste company Nutri-V, there are currently no plans to release this line of veggie ice-cream but keep an eye out because they could hit shelves in the future! 
Find out how growers and farmers support us