Fremantle hub changing long-term health outcomes
Local and loved nutrition education
Our Sunshine Harvester Hub has been operating for just over a year now.  
In our first year we have run 56 nutrition and cooking sessions to a broad range of participants. This has included people considered 'at risk' or vulnerable groups such as youth, Aboriginal people, people living with a disability, mental health, seniors and Culturally and Linguistically Diverse groups.  
People attending a program at The Hub can make meaningful change to improve their long-term health outcomes. Evaluation from one of our four-week programs found 74% of people made an overall change in their food literacy confidence and behaviours. People increased their vegetable and fruit intake, reported eating an extra half a serve of vegetables and a quarter serving of fruit per day. In addition to their health behaviours, people also increased their socialisation through meeting new people, cooking and sharing a meal with others and joining new social networks.  
The Hub highlights the importance of connecting the community with collaborative and innovative programs.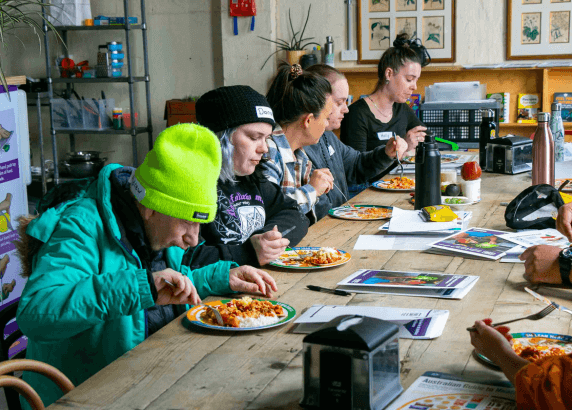 Each session sees participants learning about healthy eating and nutrition and taking part in a hands-on cooking class, making tasty recipes developed by our nutritionists.   
Each program is designed to improve knowledge and important skills and participants can expect to be better equipped to understand and apply knowledge to cook and prepare easy, healthy and tasty meals, prepare and store food safely, budget for and plan meals, read and understand food labels and to understand serving sizes and types of foods to eat each day for health and wellbeing.  
We have received incredible feedback showcasing the impact on the local community:  
"The presentation, the sharing, the learning new things, it was great, thank you Foodbank!"  
"I liked the collegiate atmosphere and the sampling of food at the end. The sessions cover a lot of practical issues and is very interactive."  
"I liked the cooking, preparation information, information about food groups and enjoyed the food. I enjoy this type of program and would love to have more of this!"  
"I like changes in the way how to feed children, creating a pleasant atmosphere and respecting them."  
"A relaxed and friendly environment, Eamon (Healthy Eating Hub Program Lead) is knowledgeable, food was delicious, it's a great program and not cost prohibitive."
We can't wait to see what the next year of operation brings. Watch this space. 
Find out more about the programs run at the Hub