Fresh fruit making kids smile
Meet Bert, the driver of our Perth Airport School Fruit Van
The School Fruit Van initiative began in 2014 with the aim of giving children that have little or no access to fresh fruit, the chance to enjoy it throughout the day.
Thanks to Perth Airport and the Stan Perron Charitable Foundation, 75 schools catering for students at high risk of socioeconomic disadvantage receive a 10-kilogram box of fruit each week (a total of 30,121kg a year) to provide to students who might not otherwise have regular access to fresh produce. The program runs on average for 37 weeks a year and it continues to receive an overwhelmingly positive response from teachers and students.
Schools play a vital role in establishing healthy behaviours in children and teenagers. Understanding the importance of eating healthily encourages children to adopt a better lifestyle by choice.
"The School Fruit Van has been an important part of our school week and has enabled us to provide fresh fruit to our students. What a fantastic initiative!!", a message from Leeming Senior High School.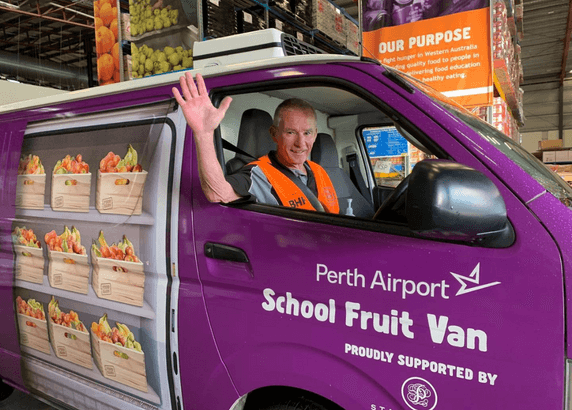 The types of fruit supplied across the year varied with seasonality, however, typically include apples, oranges, mandarins, watermelons and stone fruit.
One thing that hasn't changed for the School Fruit Van initiative all these years is our driver.
Bert has been delivering fruit boxes to schools from Armadale and out to Myaree, up to Butler, Lockridge, Belmont and beyond since the start of the program.
Bert never misses a run – in fact, he thought he was stepping into the wonderful world of retirement almost 10 years ago when he got the call to run our School Fruit Van.  All these years later, he still loves it when a school opens their box straight way to see the variety of fruits for the week, and never gets tired of hearing how the fruit deliveries make the kids happy and bring smiles to their faces.
The schools that are a part of the program agree whole-heartedly, "This service has been very helpful in our school community. There is never any fruit left over and we are always waiting for our next delivery.", said Beckenham Primary School.
The Perth Airport School Fruit Van as well as our School Breakfast Program help ensure that all students have the chance to be adequately nourished for their busy school day and have many positive benefits beyond simply feeding hungry tummies.
"Just wanted to sincerely thank you and your team for providing this service to our schools. We only started the School Breakfast Program this term and teachers have already noticed some positive improvements in attendance when our breakfast program is run. The addition of the Fruit Van has also been a welcome addition to the program and the box is usually consumed within a couple of days", from St Jude's Catholic Primary School.
Learn about the School Breakfast Program