From Farm to Your Table
How fresh food donations get to us and then to you
Ever wondered how that hamper of fresh fruits and veggies made its way to Foodbank? The operation is bigger than you think. Let's go behind the scenes and reveal what really happens when we source, collect and distribute food donations. 
Our fruitful market visits 
In Perth, our dedicated volunteers embark on a mission two to three times a week. Their goal? To salvage the unsung heroes of the food world – the fruits and vegetables that might have taken a quirky shape, faced a minor mishap during transport or simply been left behind.  
We believe in second chances, especially when it comes to perfectly good produce that can make a real difference in people's lives. Our volunteers scour markets, making sure not a single quality carrot or apple goes to waste. We know that there are people out there who need these nutritional gems, and we won't let them go unnoticed or untouched.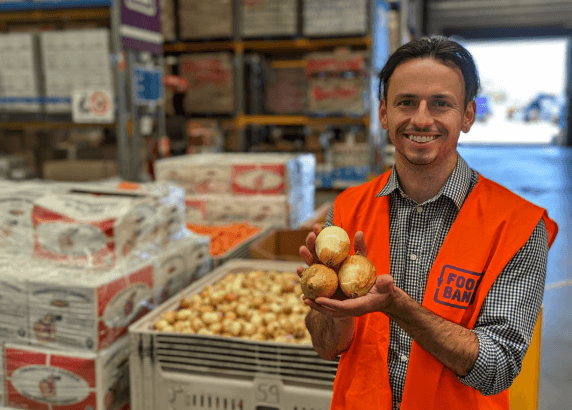 Partners in giving 
But our work doesn't stop at markets. We've built a network of incredible growers who believe in the power of giving. These heroes donate excess or slightly damaged produce that might have otherwise faced a gloomy fate. When storms ruffle the avocado trees or grape season leaves behind more than expected, we step in. 
To make their contribution hassle-free, we provide containers at their locations. This allows them to easily load the produce without any disruption to their other goods. We believe in making the act of giving as smooth as possible, so they can focus on the impact their donations create. 
On the road to hope: truckers with a mission 
As soon as the sun rises, our volunteer truckers are on the road to collect the donated produce. In the scenic South West, an additional truck is in action, reaching out to regional packing sheds and transporting any produce to Bunbury, where it joins a refrigerated truck on its journey to Perth. 
It's here that the magic truly comes to life, as these rescued treasures find their way into the hands and homes of those in need. 
Growers who make a difference 
We're on the lookout for growers who share our passion for giving back. Our growers play an integral role in our mission to ensure that no good food goes to waste when there are people who need it. Our criteria is simple: a willingness to donate and produce available for donation.  
So, the next time you enjoy a fresh bite from Foodbank, remember the journey it took to reach your plate – from the growers' fields to the markets and the hands of our truckers and volunteers. Together, we're turning food waste into hope, one nutritious donation at a time. 
Would you like to make your own food donations?