Giving a Feed for over a Decade
How Give a Feed made a big impact in 2022
For many, Christmas time is not a joyous occasion marked by seeing family and friends and sharing a meal, it's a time that is marked by the stress and financial burden of just getting by.
An amazing collaboration between Wayne Smith, Aaron Pitt and the Rotary Club of Heirisson, which started in 2011, see's generous support from the WA community come together with the goal of providing more than 3,000 Give A Feed Festive Hampers to West Australian families in need so they can celebrate Christmas and not go without. 
Give a Feed, which celebrated its 11th year of helping vulnerable Western Australians at Christmas, broke their all-time record for hampers raised in a year. The 2022 Give a Feed appeal raised 4,302 hampers – almost 400 hampers more than last year.  
The initiative works on the basis that each donation of $30 provides a festive hamper for a family of four to enjoy on Christmas day.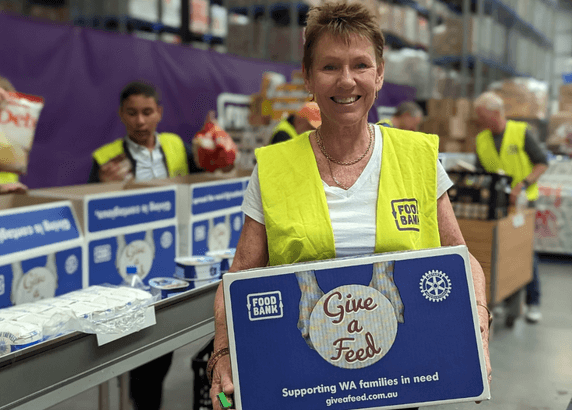 Each year the hampers are packed by amazing volunteers, community groups and businesses including Rotary Club of Heirisson, Rotary Club of Applecross, Bankwest and many more generous people across the Western Australian community. 
In 2022, some amazing and generous donations came from across the community including the Royal Perth Yacht Club, Rotary WA clubs and wonderful community groups.  
A highlight for 2022 was John Kirchner, who hosted a Spin Bike Challenge to fundraise for Give a Feed through his company Vault Fitness. Through November to January he raised enough for close to 500 hampers. 
Give a Feed is an important initiative during what was our busiest Christmas period, with demand for our food relief service over Christmas at an all-time high. 
In the 11 years of Give a Feed, the appeal has raised 26,639 hampers for vulnerable WA families.
Learn more about Give a Feed