Helping to shape communities with BHP
The impact of more than a decade in the Pilbara
After more than a decade in the Pilbara, the BHP funded nutrition education programs comes to an end in June 2023.
Following the inception of the Pilbara Strategy at Foodbank WA, the Pilbara Pilot undertaken in 2010 clearly showed a need for our services. Becoming fully funded by BHP in 2011, we were able to roll-out much needed nutrition education programs which were invaluable for participants and much appreciated by service providers. 
The funding saw us build long-standing relationships in the region and led to many advocates who valued our contributions, leading to a very successful 12-year partnership which included the wrap-around service of the School Breakfast Program.   
Jessica is one partner who has been involved with us since the pilot program.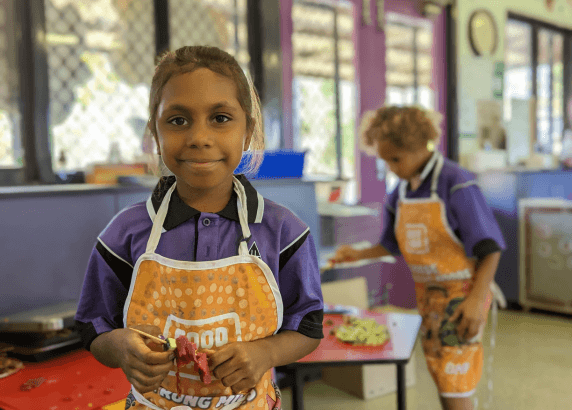 Jessica has a background in Aboriginal Education in regional and remote settings, in primary schools and high schools, from Kindergarten through to Year 12. She has worked in community and adult education, parents' groups and post-work pathways in Pilbara regional and remote areas such as Yandeyarra Community for ten years. While in Yandeyarra, she supported and lead activities for all community groups.   
Yandeyarra Remote Community School was one of the first schools that we partnered with, back in 2010.  
Some of Jessica's most valued memories include the parents program with mums who had gone through all of our programs growing up, and now were bringing their own children. A great example of the intergenerational impact of our programs. She recalls that we engaged with men in Yandeyarra who did pastoral work – highlighting our holistic approach by engaging the wider community.   
Jessica worked closely with us building a strong working relationship to forge positive outcomes in school children, parents and adults. She also helped upskill school staff to be able to provide ongoing consistency of skills and knowledge in between our visits. She said they would work together during term to keep skills, interest, awareness and knowledge maintained so that when we returned, they could build on those skills further, rather than having to recap upon our return.  
Jessica enjoyed the diversity and tailoring to the groups of our  Food Sensations for Schools, Fuel Your Future and Learn. Cook. Share. for Youth programs.  
The 12-year partnership has had real impact, reaching parents groups, schools and youth in addition to engaging community through other events or community related sessions. 
Much of the positive impact is attributed to hands-on learning, in regional but particularly in remote settings. The programs were tailored to each group to ensure the right level of literacy, ensure participants could read the recipes, figure out what they need to, and use their hands to prepare  dishes that they were proud of. The tangible outcomes were easy to see and the instantaneous feedback was that the programs offer really rich and authentic learning opportunities and outstanding high quality resources. 
We are thankful to BHP for their long-term funding and helping us to make a lasting impact where it really matters. Foodbank, or the 'Purple Shirts' as we came to be known in Yandeyarra, were known to provide consistent delivery, multiple times a year, come rain, hail or shine. We were there and the kids remembered us. We couldn't ask for more than that. 
Find out about our tailored nutrition education programs