The increasing demand for our services
How you volunteering makes a big impact
Each and every one of us across our six branches, would have noticed the increase in demand every day.
When enquiring as to which day is the Perth branches most busy day, the response is Monday, Tuesday, Wednesday, Thursday and Friday.
Each branch sees queues each day. Every day.
We are so grateful for how our staff and volunteers manage the increasing demand and customers, many of who come in for the first time and can be overwhelmed, frustrated or angry at the situation the find themselves in – doing their best; working hard and trying to make ends meet but just not being able to.
We all do an incredible job, from the Perth warehouse who ensures each branch has enough stock to keep up with demand to our staff and vollies on the weighbridge in each branch, to the POS to stacking shelves to the branches who get up every day and make magic happen. Each job that ensures our service can keep going and providing, even under pressure. Thank you all.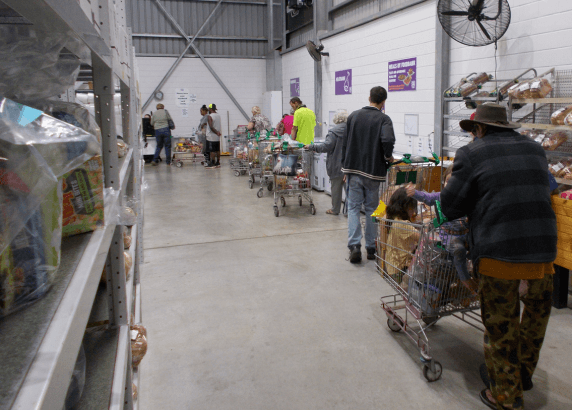 If that wasn't enough for Fundraising, they were also thrilled to host our first Thank You event in three years during the last week of April.
It was a great evening during which we were able to acknowledge the support of many individuals and organisations who provide funds, food supply, their time, their talent and passion to ensure we are able to best serve the community and have been able to provide 7.8 million meals, educate over 5,000 people and tell the stories of those people we support all in the last year.
Thank you everyone for volunteering and working at the Thank You event. It was a massive collaboration and we have received so much great feedback.
Support now is more vital than ever before