Watermelon making Kimberley kids smile
Providing food relief after the recent Kimberly floods
With sticky faces and fingers, the smiles on these Kununurra kids are as big as the watermelons we have just delivered.
When Tropical Cyclone Ellie flooded the Kimberley in late December/early January, we knew we were going to be needed and we set the wheels in motion. We packed hampers ready to go to areas directly affected by the Kimberley floods, working with the Government to get them to where they were needed.
But what proved a bigger logistical challenge was getting food to areas not directly impacted. Kununurra, normally home to 5,300 people and over 3,000km from Perth, experienced a surge in population as flooded communities moved to bigger towns. But it also found itself cut off from its major supply route with the closure of parts of the Great Northern Highway. With supermarket shelves becoming increasingly bare, we worked alongside our partners both in Kununurra and nationally to ensure we could get food to those who needed it most.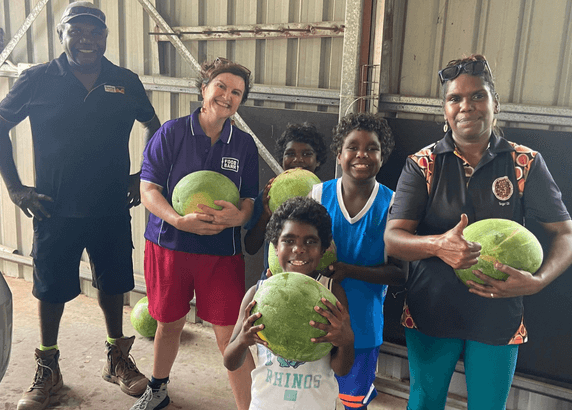 Our friends at Foodbank South Australia and Northern Territory helped us source fresh produce including onions, carrots, potatoes and of course the delicious juicy watermelons. With the road closures, the quickest supply route to Kununurra is from Adelaide through the Northern Territory. Coles stepped up and offered to transport the produce for free. Woolworths have donated 10,000 key staple items including noodles, corned beef and soup which are currently making their way up North. Chevron Australia has helped us cover the cost of food we have bought to ensure we have enough for the community.
Our first delivery into the community arrived on 31 January with three more planned in the coming weeks. Steve Bacon, our Senior Manager Sales and Network travelled to Kununurra to assist. Working with the community including MG Corp and Wunan who packed and delivered 240 bags of fresh produce and 320 hampers to the community assisting over 2,100 people.
By the end of March we will have distributed 1,280 dry hampers and 13 tonnes of fresh produce.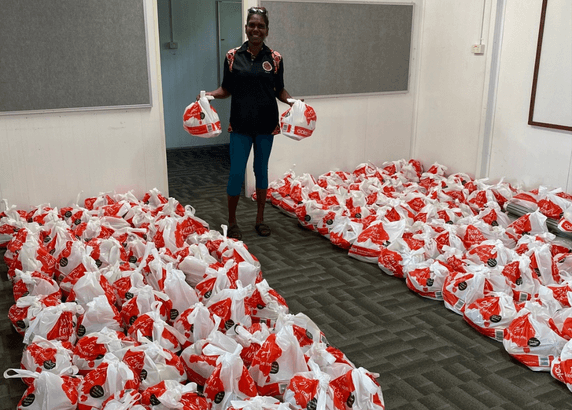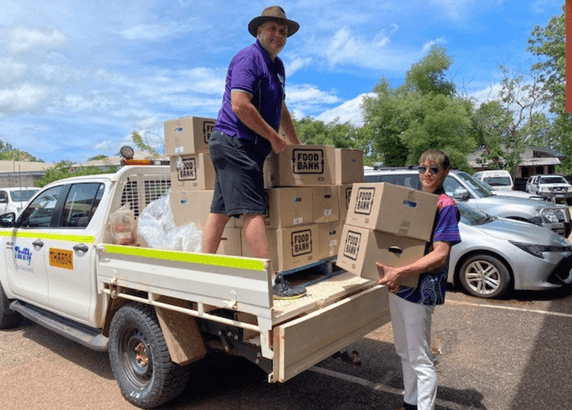 Steve was inspired by the resilience of the community and how they came together to help each other out. But it is clear some people are doing it tough and the shortage of groceries, and the price of what is available is making it even harder. He said "I delivered a hamper to one lady, and she gave me the biggest bear hug, she was so grateful. She had no food left in the house and here I was giving her a box of food that would last her a week."
"Another gentleman had just returned from dialysis, and it really made his day. And the kids with their big smiles and faces covered with watermelon! One of my best work days ever."
It is a logistical challenge to ensure we can get food to those who need it, especially in road closures and transport through South Australia and Northern Territory has the extra burden of meeting quarantine regulations. We're planning to open a hub in Kununurra to provide long-term food relief support to the community and surrounding Kimberley region. We need $2.5 million and a location to start. Every dollar helps, please donate today.
Help make the Kimberley hub happen