She's got the whole world in her hands
Ever wondered how quickly we put your gift to work, and what that means for the incredible people who allow us to share their Foodbank stories with you?
We caught up with multi-talented mum Melita who went through such a tough time last year but has started 2023 with a new job and truckloads of positivity – thanks to you.
With support from you and her local neighbourhood house, Mill House Neighbourhood House, in Maryborough who delivers our food, Melita's Christmas was "fantastic".
She took her kids Madison and Luke to the beach for a picnic lunch with plenty of fresh food, sunshine and a classic Aussie treat for dessert: icy poles!
At Christmas, I looked in the cupboard, and there was food there. My car was full of petrol, and it was the first time in a long time that had happened. It gave me such a sense of freedom and relief.
Food has transformed Melita's life. Giving her the energy to complete a community services course and score a brand new job as a health worker.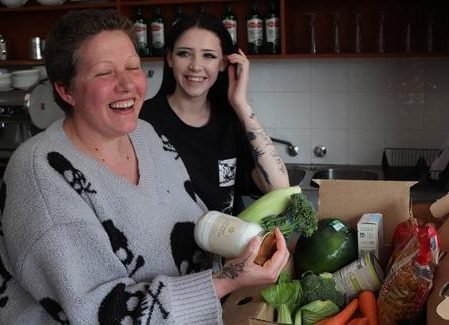 She also put her artistic skills to work over summer, painting a striking mural at Mill House for her community to enjoy.
Melita loved your Christmas messages:
"I was absolutely lost for words. These people that didn't even know me, sending me these beautiful messages? I couldn't believe it."
Every $1 donated is 2 meals created