How a Men's Shed Learnt About Healthy Eating
Peter's story from his local Men's Shed
Peter is one of those wonderful people who is out in our community making it a better place.
We first met Peter through his association with the Rotary Club of Karrinyup which has been one of our long-standing supporters, and then again at one of our Food Sensations® programs run at the local Men's Shed, of which Peter is a very active member. 
The Men's Shed had 12 members attend the first session and, impressively, all 12 attended the remaining three sessions.  
Before the program some of the attendees had very limited variety in their meals and others relied heavily on family members to help with meals. The program showed the group how they can have tasty, economical and interesting meals that are simple to prepare.  
The Men's Shed is a program that is particularly important to Peter, for the general wellbeing of men. Peter said that while there are many in WA, there was only one in the City of Stirling and it was very successful and had a long membership waiting list so he explored the prospect of establishing a second.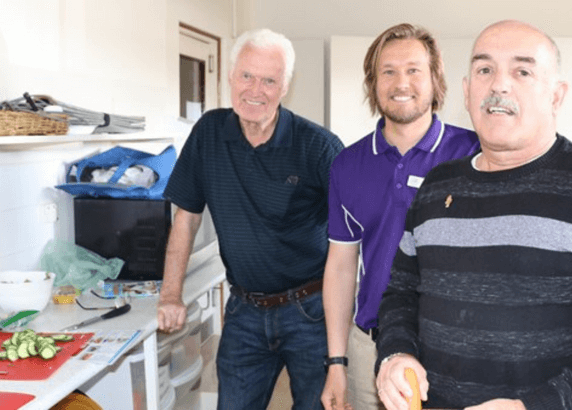 The Karrinyup Community Men's Shed has just completed its 4th year of operating and has 90 members which is about its capacity due to the size of the property and safety concerns.
They have a wide variety of ages from about 20 to almost 90, several ethnic backgrounds and a diversity of past vocations. It is mandatory for work to stop at 10.00am each day for morning tea. This encourages our members to talk to each other and it has become apparent that some are opening up about personal problems that they previously felt uncomfortable in discussing.  
Peter is also a member of Rotary Club of Karrinyup which has five avenues of service and while all are important, his passions lie with community and youth.  
Community because it covers a wide diversity of programs and projects that make our community a better place to live in. Through the Club he has been involved in several projects including the establishment of a Farmer's Market which has just celebrated 11 years of operation, and the Men's Shed. 
As well as developing their own projects, they also make financial donations to many worthwhile and important organisations that provide a variety of services and support to the community and to those who need support. Some that they have a long association with include Foodbank WA and Camp Quality. 
Peter is also a strong supporter of youth programs because helping to develop stronger young people will deliver future leaders who will enhance the future. 
The Clubs International Youth Exchange program gives young people the opportunity to live in a foreign country for a year. A benefit of this is that the participants will get a better understanding of other cultures and become more inclined to promote peace. 
Peter says that, "It is just such a worthwhile and rewarding thing to do with your time. I am so grateful that Rotary International has given me the opportunities to do the things that I have done.  While individual members provide the impetus for projects, it is Rotary that provides the structure and network." 
Rotary also has several projects that promote personal development and leadership skills and others that expose high school students to various vocational opportunities. The club is rewarded by seeing the development of youth from all of these programs. 
Peter says that personally, he gets a great deal of satisfaction from being able to support others in their endeavours to make our community a better place. 
We need more people like Peter! Thank you for everything that you do for your community. 
Find out more about nutrition education programs