Empowering young, homeless men during difficult times
Since 1985, Teen Challenge's New Hope House, formerly Hebron House, in Kelvin Grove has been providing homeless young men, between the ages of 16-25, with crisis accommodation. Up to seven residents can live at New Hope House for three months at a time.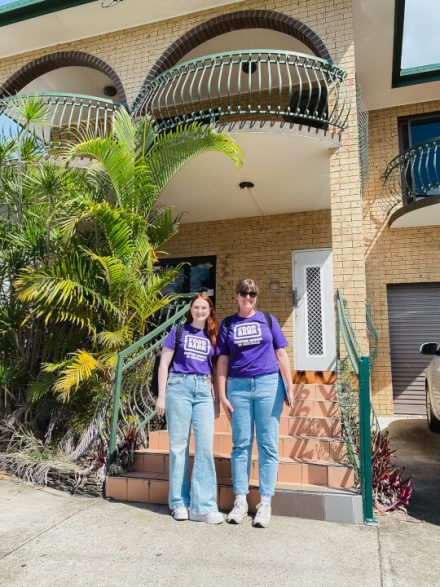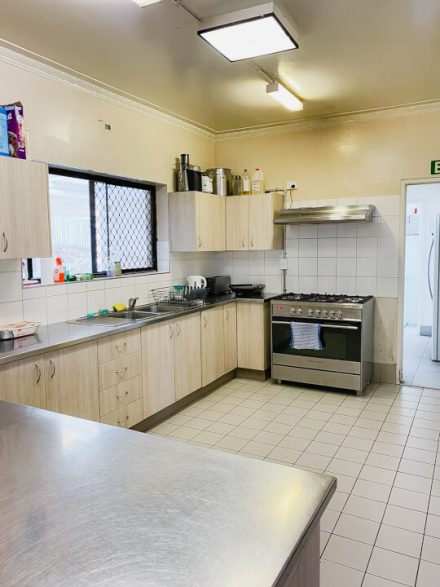 During their stay, these men are not only provided with a roof over their heads but also are taught valuable life lessons and skills. Daniel, a Youth Worker at New Hope House explained:
"This is a home. So, you've got the lounge and you've got meals altogether at the dinner table. That's really intentional for us as our culture. But then we also work with them (the residents) with their living skills. We really focus on their quality of living."
Daniel and Tim, a Senior Case Worker at New Hope House focus on providing these young men, with routines, accountability, and chores, such as cooking. This is where New Hope House's partnership with Foodbank Queensland assists in supporting these vulnerable young men. For the last few years, New Hope House has been a Foodbank Member Charity.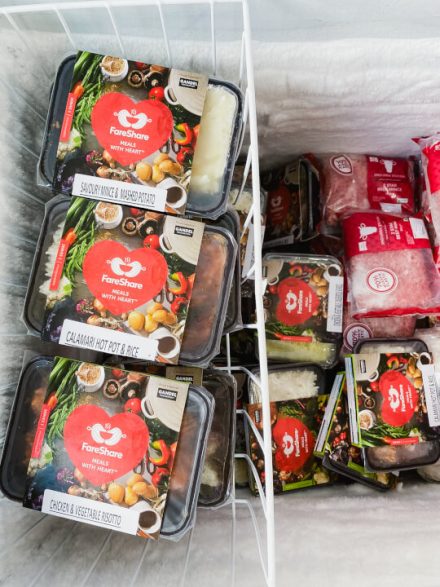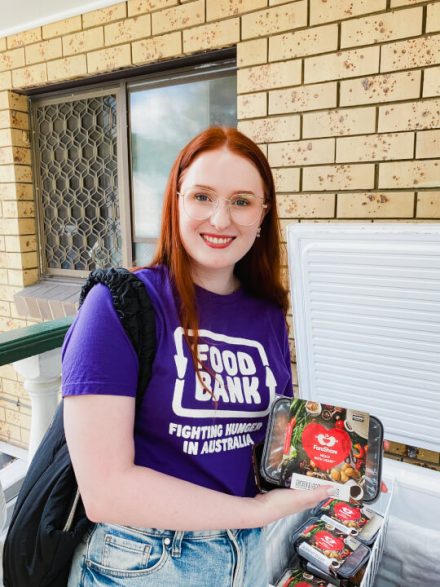 This partnership assists New Hope House in providing easy and nutritious meals to their residents, such as the house favourite FareShare meals; collected from Foodbank's Food Distribution Centre.
As part of improving the residents' living skills, each week, Daniel puts together a menu of weekly dinners which each resident will be assigned to cook. These simple meals include food collected from Foodbank.
"We have a really good space here to teach them to cook once a week. At the moment, it's with the youth worker, teaching them to use gloves, hygiene and to wash their hands. And in here, we see the guys that are passionate about cooking and then we start asking… well, have you thought about a career?" – Tim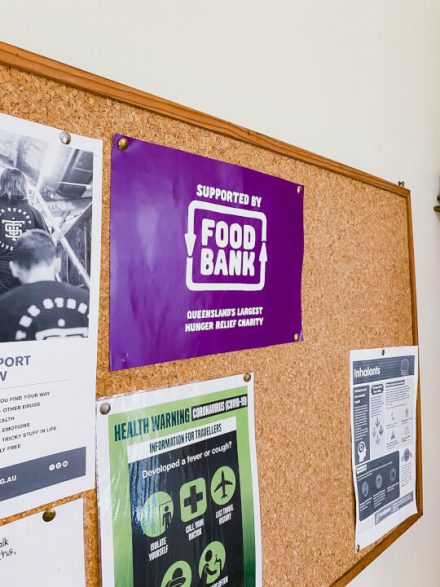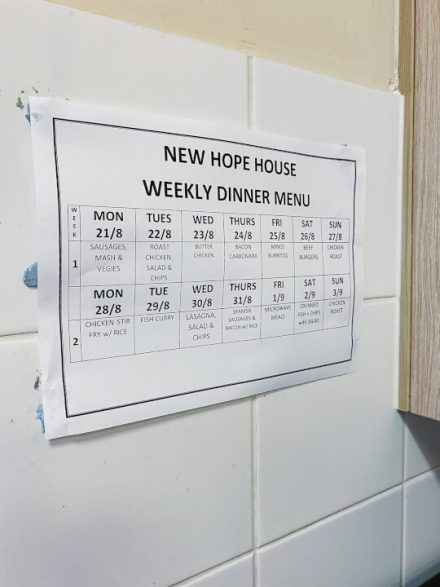 The residents' weekly cooking night has also allowed some residents the opportunity to share their culture. This has seen the New Hope House dining table filled with a mix of cuisines from African to Middle Eastern dishes.
Any ingredients left over, or which they have excess of, are donated to a nearby church who distributes them to people who are homeless. On these days, the New Hope House residents will pack the food and assist in distributing the hampers to local shelters.
The partnership with Foodbank helps New Hope House to source quality food at a discounted rate, which allows them to deliver more programs and services.
"It's really helped our budget, so we can spend it on other programs other than just food. So, these meals and food have helped our budget." – Tim
In the last 6 months, next door to New Hope House, they've begun operating a transitional house. The purpose of this house is to provide ex-residents the opportunity to step out on their own, while still having the support network that New Hope House offers. Those ex-residents who step out on their own completely are also provided with a food hamper to assist them with their transition.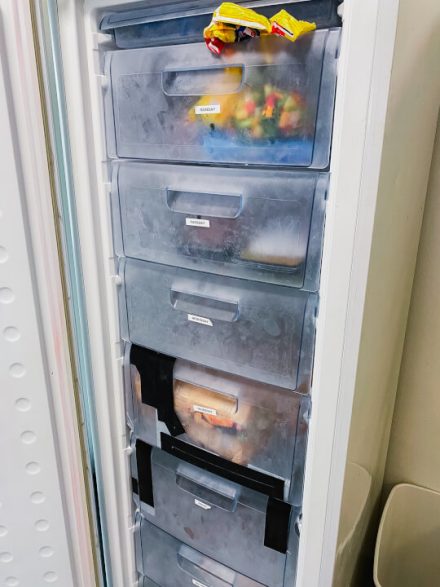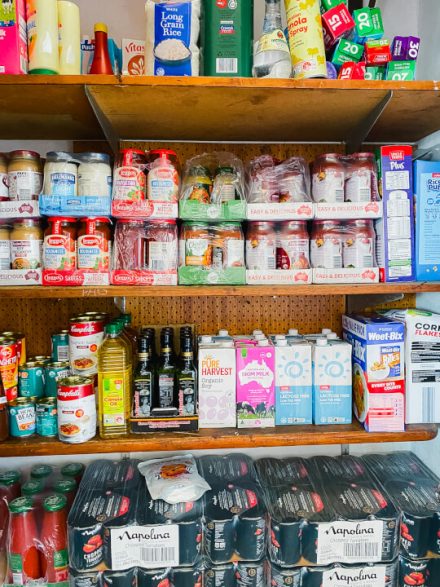 The young men who are supported by New Hope House vary, typically the residents find shelter at New Hope House due to a relationship breakdown with their families. Daniel explained that:
"They're not in the wrong. They haven't done anything wrong. They're not into substances. They're not gambling. There's nothing wrong with them. They just can't go home."
A previous resident at New Hope House who impacted Tim greatly was a resident who had never had a birthday cake and for Daniel it was a 22-year-old who had never learnt to shave. Daniel recounts:
"He came to me one time and he asked, "Do you have any shaving cream? Could you teach me how to shave?" We were in that bathroom for an hour. It was a real father and son moment. I got a little teary, because it was this moment of not only did he physically feel better but also emotionally and mentally, it was quite special."
The relationships Tim, Daniel and Team Leader, Ben build with New Hope House's residents is inspiring. Not only does New Hope House provide its residents with the safety of a roof over their heads but also the chance to start anew. As Tim explained:
"We don't judge them. We give them a full reset, we say to some of the guys, "Imagine there's a whiteboard. It's got your history on it. We're just wiping it clean right now. So let's just go day by day."
As the name suggests, New Hope House provides these young men with a space where they can reset, gain new life skills and lessons provided by Tim, Daniel and Ben and ultimately, set them up to feel hopeful. The success of which they see often, with ex-residents inviting them to important life moments, such as graduations. Even the little things, Daniel is grateful to be a part of:
"I had an ex-resident come back three weeks ago. He left a couple of months ago now. But he said, "I guarantee if it wasn't for that (the cooking) and the living skills, there's no way I'd be able to live the way I'm living now." – Daniel
Foodbank Queensland is proud to work alongside New Hope House to help provide food for its residents. Daniel explained how the partnership has assisted them.
"We're just super grateful here at New Hope House that we're able to partner with Foodbank who understands the need that's currently being experienced from Australians. There's a huge homelessness crisis that is happening but by partnering with Foodbank, we are able to really support those that are in need, from the street to the table."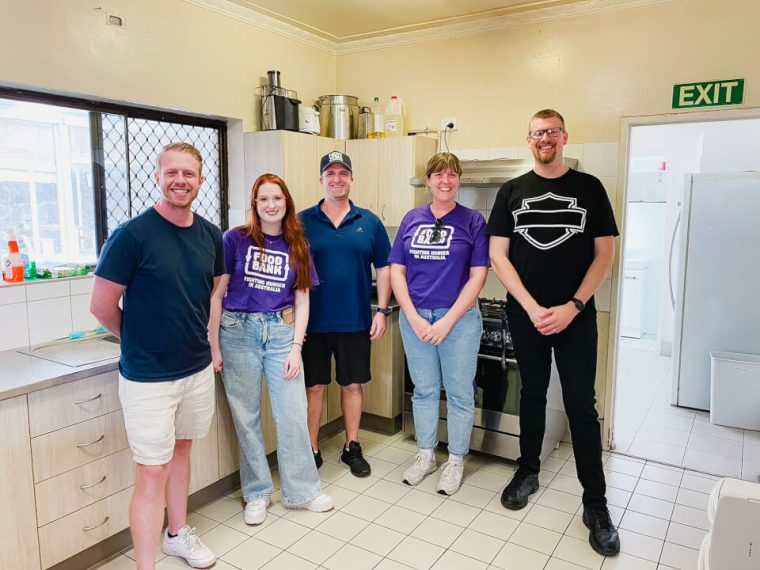 If you are in a position to help Foodbank Queensland provide more food across the state to support Queenslanders in need, please consider joining the fight against hunger as a regular giver.
If you are a Queensland charity, Foodbank Queensland membership is a great way to support your food relief projects, offering your organisation a reliable source of food and groceries all year round, you can read more about becoming a Foodbank Member Charity here.