"When my baby and I had nothing, a Foodbank hamper was the ultimate relief."
It should have been the happiest of times, but instead Nicole found herself couch surfing with her three-month-old daughter and relying on extended family for enough to eat.
When Nicole's baby Bella, was just three months old, the terrified first-time mum, 24, had to quickly escape her home on Brisbane's outskirts. The Wakka Wakka and Kamilaroi woman had been living with her mum and partner, when he became abusive. Nicole and baby Bella were given crisis accommodation for two nights, but then found themselves sleeping on the sofas of cousins and aunties. It was heartbreaking and terrifying to be homeless, made worse because Nicole could not afford food.
"I don't think I've ever been more depressed and anxious than I was then. I had no money, and I was eating my relatives' food, so I felt really bad about that. I wasn't able to contribute much financially. Whatever money I had went towards making sure Bella had all her necessities." – Nicole
Respite came when Nicole found permanent accommodation, a two-bedroom unit in Ipswich where she could create a safe, secure life for Bella. But it was short lived, as she now had to start from scratch and scrape together money for furniture and all life's essentials. In desperation, she rang the support worker who ran her mums and bubs group.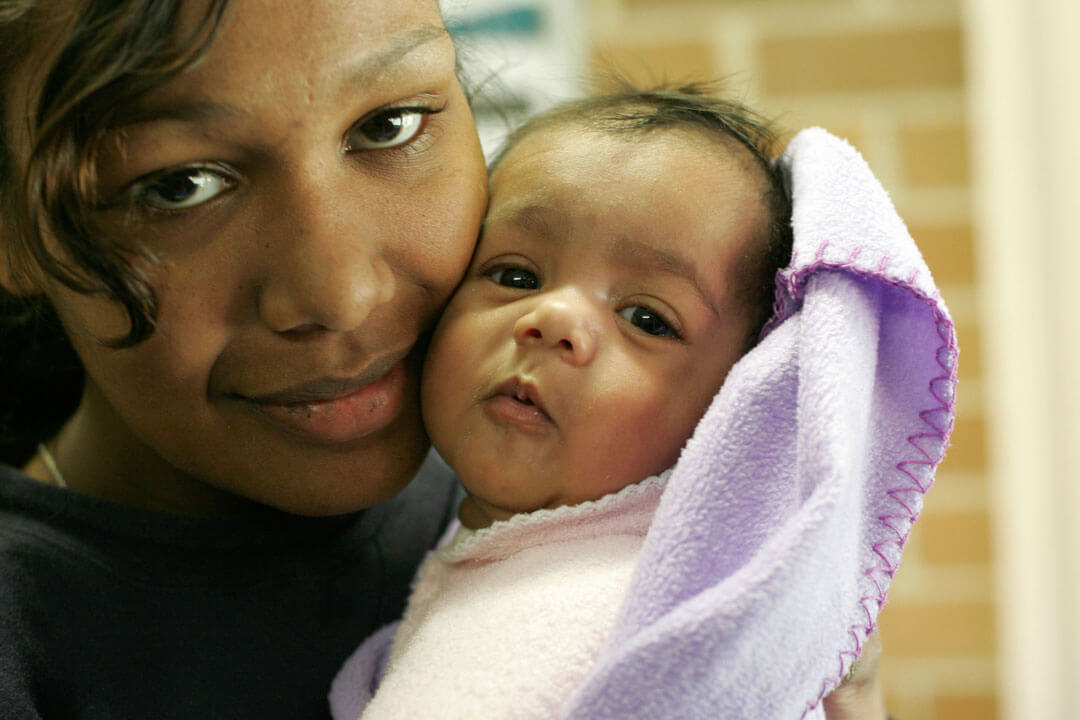 "I was on the phone crying to her saying 'I've just moved into this place and I've got no food – I've got nothing.'" – Nicole
Thanks to supporters like you, Nicole didn't have to go hungry. "My support worker said: 'We've just been to Foodbank, and we've got all the food here. I'm going to give you a couple of bags'. I was able to fill my pantry that day – it was amazing really." – Nicole
As Nicole began to rebuild her life, there were other times a Foodbank hamper meant she didn't have to miss meals because of a big electricity bill or car registration. It brought such comfort to be given staples like rice, tinned food, soups, sausages and mince, and even baby formula for Bella.
"Ever since I became a mum, it isn't about me anymore – I have to put Bella's needs first and make sure she has what she needs. I don't ever want my daughter to struggle with food the way I've struggled."
Bella is now 18 months old, and Nicole's life is much happier. She loves playing with her little girl and plans to return to university to finish her midwifery studies soon. With her friends from her mums and bubs group, she has learnt to prepare healthy meals for Bella. She no longer struggles to provide for her little girl.
"I'm so grateful that I don't have to wonder what Bella and I are going to eat tonight or how we are going to cope next week without food. I'm just so happy Foodbank exists. Thank you to Foodbank for giving me the opportunity to put a meal on the table each night." – Nicole
Estimates suggest that between 22% and 32% of Indigenous people are food insecure, with those people living in remote areas most likely to go hungry. Foodbank delivers hampers to remote communities and has strong partnerships with charities dedicated to supporting Aboriginal and Torres Strait Islander communities – and this is only possible thanks to you.
Every $1 you donate will provide two nutritious meals to someone facing hunger like Nicole. 
HELP HUNGRY FAMILIES LIKE NICOLE'S.