Ray,
Bunbury WA
At 79 years young, Ray Jordan has been an embodiment of unwavering dedication to his community, proving that age is just a number when it comes to making a difference. For most of his life, Ray has been a shining example of the power of volunteering, leaving an indelible mark on every place he's called home. Now, we're proud to share that Ray has been recognised as South West Volunteer of the Year in 2022.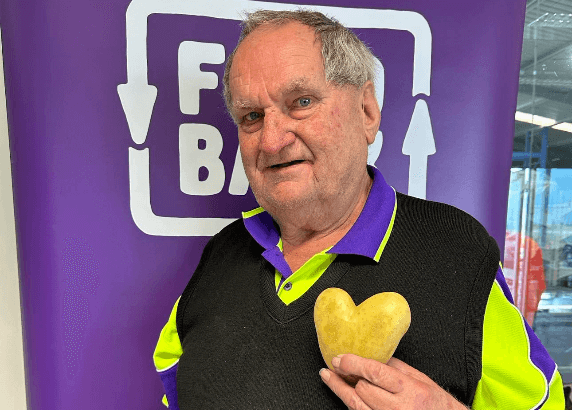 I like volunteering because I get to meet people, I help return things to the community, and it's part of my life.
Ray's journey of service began four decades ago in Kalgoorlie, where he selflessly lent his time to both the Volunteer Fire Brigade and the Boy Scouts. The scorching Australian outback was no match for Ray's fiery spirit as he courageously battled blazes and mentored young scouts.
But this was only the start of his volunteering journey. In Esperance, Ray's dedication spanned an impressive 21 years as the foundation's secretary at the Esperance Volunteer Fire Brigade. During this time, he played a crucial role in the smooth operation of the organisation and was honoured with a National Service Medal from the government for his service.
His next adventure led him to Bunbury, where he joined the Foodbank Bunbury during its inception. Ray quickly became an integral part of the organisation and today, he's the driving force behind the region's school breakfast program, ensuring that no child in the South West goes to school hungry.
With a heart full of compassion and a backpack filled with breakfasts, Ray coordinates breakfast for an impressive 63 schools, from Waroona to Augusta, spanning the South West and Collie, as well as the local schools in Bunbury.
Reflecting on his journey, Ray shared, "I thought when I retired I'd sit home all day and do nothing, but that just doesn't work. You have to get out amongst the community; otherwise, you become a couch potato." His words are a reminder that life's true fulfillment comes from being active, engaged, and making a positive impact on the lives of others.
In Bunbury, our branch knows that their success wouldn't be possible without champions like Ray Jordan. His legacy of kindness, dedication, and unwavering commitment to his community will continue to inspire us all to be better, to do more, and to give selflessly.
And it's not just about Ray; it's about the power of collaboration and support from organisations like South 32, who have been steadfast partners in our mission for years, helping Foodbank Bunbury achieve remarkable outcomes.
We are believers on Act, Belong, Commit volunteering is a great way to be active in our community
Read more of our Volunteer Stories