Park Towers community pantry feeding hundreds each week
About 1200 people call the Park Towers public housing in South Melbourne home. While the numbers may fluctuate, you can be certain that the majority of occupants are struggling to make ends meet on any given day.
Troy, a resident of the Towers, had a plan to open a community pantry in the base of the units, that all residents of the Towers could have access to.
Fast forward 2.5 years to now, and Troy's plan is fully operational and helping feed about 450-500 folks each week, with no questions asked. Foodbank Victoria provides 90% of the food to help feed the residents.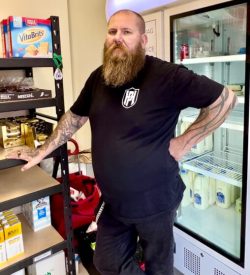 Troy told us he had noticed a sharp increase in the number of people accessing the pantry and he was concerned that it was only going to get worse before it got better.
He hoped that residents, who were often suffering mental health issues, drug addiction, social awkwardness, and race and religion barriers, received a little respite through the pantry at a time when things are so tough.