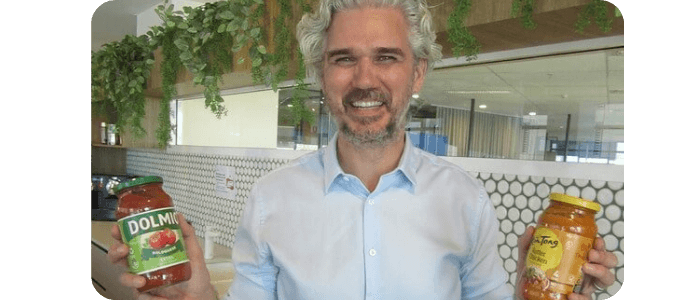 Interview with Mars Food Australia General Manager, Bill Heague.
In July, Foodbank launched its first Collaborative Supply Program featuring four different product item in partnership with Mars Food, a long-standing supporter of Foodbank nationally. We asked Mars Food Australia General Manager, Bill Heague, to share some more about the partnership.
Foodbank: Our partnership with Mars Food Australia is very important to us because of the crucial part you play in helping us end hunger in Australia. What does your partnership with Foodbank mean to Mars Food Australia?
Bill Heague: Mars Food Australia has a long-standing relationship Foodbank, and it's one of which we are very proud. Mars is a company genuinely driven by purpose. We have a global commitment to deliver 25 million meals to people in need by 2025 and we are doing this through strategic partnerships, like the one we have with Foodbank in Australia.
Locally, our commitment translates to one million meals for Australians by the end of 2021. Foodbank is a crucial link to help us get food to people who need it the most – and this year our collaborative supply partnership alone will help us deliver 60 per cent of our goal.
FB: And what about the people who work at Mars Food Australia – why is the Foodbank partnership important to your Mars Associates?
BH: Mars is a family-owned business, and the culture of caring for one another is very strong. Our Associates understand the important role we can all play in helping people in need.
As part of our new collaborative supply partnership, we are donating our Associates' labour and time on production lines to produce more than 175,000 jars and bottles of dinner food specifically for Foodbank.
The team is genuinely excited to see the products they make every day getting to people who need them most.
FB: Last month, we launched the first Foodbank Collaborative Supply Program featuring four different products from Mars Food Australia. Why did you decide to set up this Collaborative Supply Program?
BH: Foodbank has never been more important for Australians than it is right now. Foodbank is responsible for ensuring essential food relief is available despite the many lockdowns, border closures and panic buying.
On top of that, lost employment and the broader economic fallout from COVID-19 have generated a need to increase the quantity of food provided to Australians from all walks of life.
With the pandemic making food insecurity an even bigger issue over the past 18 months, we knew we could do more to help. So, we talked with Foodbank CEO, Brianna Casey, to find out what we could do.
One of Foodbank's biggest challenges is the need for a consistent supply of food products. Enabling a steady, planned supply would help meet the huge logistical challenge Foodbank faces getting food to the hundreds of thousands of Australians doing it tough.
So, this year, we joined as a collaborative supply partner to help resolve what Brianna refers to as their food and grocery 'surprise chain' which is based on ad hoc donations and unpredictable food rescue opportunities. We wanted to help turn that into a predictable and reliable supply chain.
In addition to our new collaboration, we'll also be continuing our usual monthly donations
Partnerships like this one between Foodbank and Mars Food Australia are vital in helping organisations like Foodbank meet this growing need.
FB: The Mars Food and Foodbank relationship is already setting the standard for food industry and charity collaborations. Do you have any ideas on how you would like to see the partnership develop in the future?
BH: We're keen to keep this Collaborative Supply Program going for as long as it's helping feed Australians in need. We'd also like to look at how we can grow our partnership with Foodbank and contribute further in coming years. Watch this space!