Putting Pork on Shoppers' Forks
All thanks to Westpork and Dardanup Butchering Company
We are thrilled to be partnered with Westpork which is the largest pork producer and account for 71% of the state's production. 
Our partnership with Westpork and Dardanup Butchering Company, now in its sixth year, has helped thousands of our customers top up their protein intake by enabling access to a wide variety of packaged portions of pork sausages, mince, diced pork, roast cuts and chops.  
This year Westpork donated 400 pigs from across the 13 farms it runs in Western Australia from Moora to Mount Barker. Dardanup Butchering Company then take care of rest, presenting us with the final product all packaged up ready for us to use.  
Over the course of our partnership Westpork have donated approximately 55,000 kilos and Dardanup are very kind in sending a few pallets of product every fortnight to space out the delivery for us. They'll also ask us what cuts of meat we require and do up one large order for us.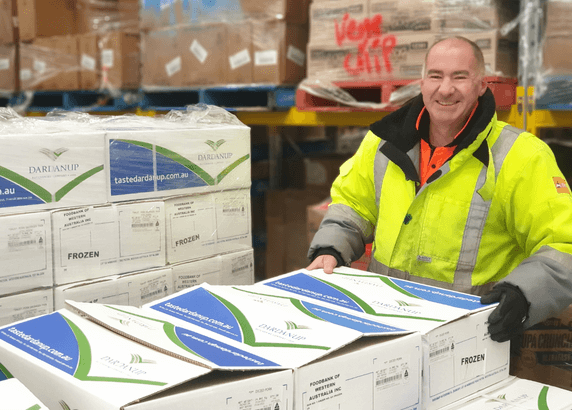 "It is vitally important for people to have access to nutritious food, yet the rising costs of groceries, fuel, energy, rent and mortgages makes it difficult for more and more people to stretch their food budget." said Kate O'Hara Foodbank WA CEO. "Often, groceries are the first thing families cut back on, especially meat because it's often considered a luxury, a discretionary spend."  
According to our 2022 Hunger report, in Western Australia, 23% of households with mortgages have experienced food insecurity in the last year.   
Households with children are being harder hit and single parent households are worst of all. Over 116,000 children in Western Australia lived in severely food insecure households last year.   
Kate continued, saying, "pork, like any animal based protein is a complete protein, also called a 'high quality protein'. This means it contains all of the 9 essential amino acids that we need to function on a daily basis, to grow new cells, build muscles and bone and other important compounds like hormones and enzymes. By providing pork in our branches we are ensuring the availability of a highly nutritious food and a very tasty ingredient to our customers."
Published: Tuesday, 9 August 2022
Read more stats from our Hunger Report