Foodbank Queensland and Sunny Queen Australia team up to put a smile on little faces this Easter
To help make Easter egg-stra special this year, Foodbank Queensland partnered with Sunny Queen Australia to distribute more than 600 dozen eggs and simple-to-create Easter activities to families in need.
Fifty food relief charities across South East Queensland received Sunny Queen's Free Range smiley faced eggs and Easter activities via Foodbank's Food Distribution Centre to help hundreds of struggling families enjoy the simple, sunny pleasures of eating, playing and creating together.
Foodbank Queensland CEO, Sara Harrup, said Sunny Queen Australia's generous donation helped bring joy to families in need.
"For families struggling to put food on the table, Easter can be a challenging and isolating time," she said.
"We are delighted to have partnered with Sunny Queen Australia to help make Easter brighter for Queensland families going without."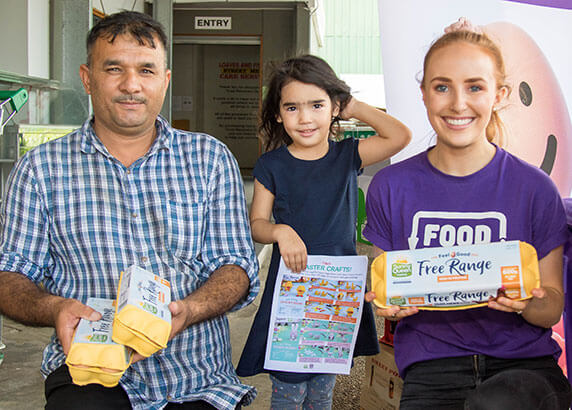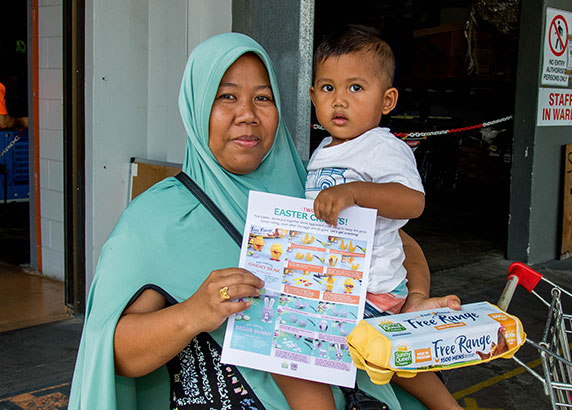 The donation has helped families like Angela's from Sunnybank who have faced hard times due to the pandemic.
"These eggs are going to help us put food on the table, even if it means toast and eggs for a meal," she said.
"We are struggling so much with my partner out of work and still trying to find work after the COVID-19 period. Being able to pick up some food to get us through with five kids in the house has been a massive help. Even just scrambled eggs on toast. It's a meal that our kids wouldn't turn down."
Foodbank's Member Charities were grateful for the donation with Stewart King, Food Recovery Coordinator at Loaves and Fishes, speaking to the act of generosity.
"We are so grateful to Foodbank Queensland and Sunny Queen Australia for providing fresh eggs and Easter activities for our families doing it tough," he said.
"Our families were so thankful when they received the eggs and Easter craft activities. These simple acts of kind-heartedness really make a difference for people facing hardship."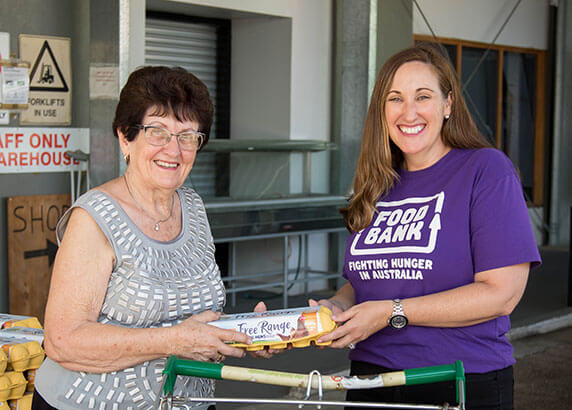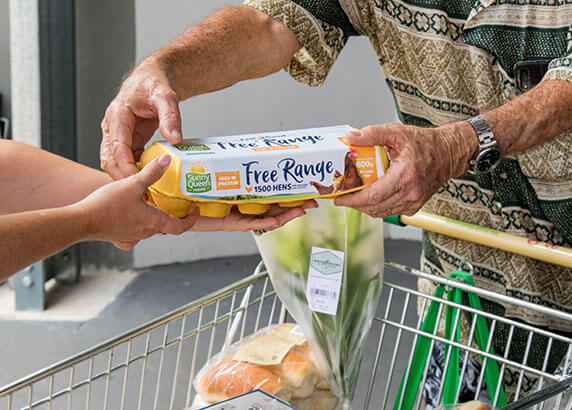 General Manager of Marketing and Innovation at Sunny Queen, Isabelle Dench, spoke of Sunny Queen's passion for supporting Aussies all year around – especially during festive seasons.
"Easter is a time for everyone to be together, enjoying a spread of good, delicious food and each other's company. It's also a great opportunity to spend time with our family and friends and have fun all together. Crafting cute little chickens or bunnies using our egg packs is just another way to enjoy precious moments with our little ones," Isabelle said.
"At Sunny Queen, we are big believers that small acts of kindness can make a big difference. We hope our small gesture of donating our smiley-faced eggs and some cute and easy-to-make craft ideas can help make Queenslanders smile during Easter."
"Through its charitable partnership with Foodbank, which spans many years of egg and egg product donations and most recently a refrigerated truck to support deliveries, Sunny Queen is proud to continue its vision of helping drive an end to hunger for all Aussies."
Thank you, Sunny Queen Australia, for your very generous donation and for making a positive difference in local communities this Easter.