Rotary Answers Urgent Request
The spread of COVID-19 through Western Australian communities has severely impacted the number of regular and corporate volunteers across Foodbank WA's five regional branches and the Perth Centre for Hunger Relief.  Since April, Rotarians have stepped up to help pack pantry staple hampers along with various other bundles such as coffee and tea packs, hygiene packs and more.
Matilda Bay members have done 7 shifts, Heirisson Rotarians have also done two mornings with another being scheduled – just to mention a few of the 30 groups!  Hundreds of hampers and bundles are prepared each shift meaning those most vulnerable in our communities around WA are being helped.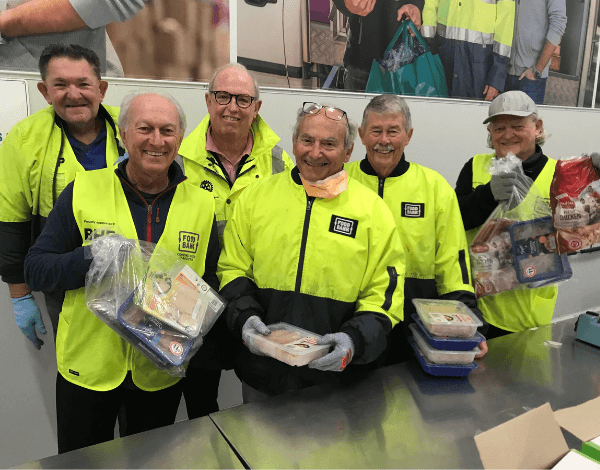 "The experience was rewarding, even though I used a few different muscles than normal!"
The hampers are distributed across WA through Foodbank WA's six branches, Mobile Foodbank service and into remote communities, to help people doing it tough. With winter approaching, and COVID still impacting our communities this is unlikely to be alleviated anytime soon. 
Rotarians who have participated have all enjoyed the experience. Some say that, yes, the packing line can use a few unfamiliar muscles, but all involved have found the experience rewarding.  The work is not arduous, and all reasonable precautions are taken. They say it's a chance to catch up with others and do a bit of team building. 
Rotary also assists Foodbank WA in other ways, especially around the festive season, with Give a Feed, Cans for Christmas and other initiatives.