SCA Melbourne Bake Off Fundraiser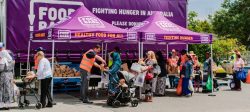 We've all seen how tough it is at the moment with the high cost of food and groceries and how much people are struggling. The reality is many Australians are having to make difficult choices between basic necessities, like food and shelter – this is why Foodbank needs your support more than ever.
One dollar donated is two meals created.