Sheryl's Story
A proud single mum going hungry to feed her sons
Right now, with the cost-of-living crisis continuing to push household costs through the roof, hardworking mums like Sheryl need your help more than ever.
Latest figures show that households with children are being hit hard by the hunger problem sweeping our state. And it's single-parent families who are feeling the pressure most of all. Sadly, as many as 37% of single parent families are going hungry, sometimes going whole days without eating.
Sheryl* knows exactly how hard things have become. She does everything she can to provide for her three growing sons. But, as a single mum, it's not easy. Especially not right now.
Spiralling fuel and grocery prices mean that, after she's paid the bills and filled the car with petrol to get to work, there's not enough left over for her whole family to eat properly.
Up until now, she's managed to put food on the table. But, like so many other hard-working parents, she's been secretly skipping meals to make sure there's enough for her kids.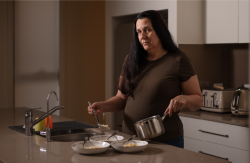 "Some weeks, I might only have one or two evening meals. That way, I have more meat and vegetables and things like that for the boys. You 100% go without so that you know you've got things for your children." – Sheryl
It's what any mum would do to make sure her kids have what they need to grow up healthy and strong. But, with the cost-of-living crisis set to get even worse this year – and groceries getting even more expensive – Sheryl's now incredibly worried about the future.
What's worse, for many parents like Sheryl, the guilt and shame of not being able to provide for their kids stops them asking for help.
As food prices soar, there are more and more families on the edge of requiring assistance. We know from bitter experience that the number of people needing help to put food on the table is about to skyrocket. We need to be ready.
Sheryl is just one of thousands of parents who are faking a smile for their kids. She's trying to raise three boys – 15-year-old Sean*, 13-year-old Connor* and 8-year-old Callum*. She works all the hours she can, juggling a 9 to 5 job with the pressures of being a full-time mum. But, on a single income, it's a major challenge to give the boys everything they need. And, as anyone who's ever lived with teenagers will understand, providing enough food for fast-growing kids is one of the biggest challenges of all.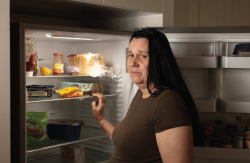 "It's nothing for them to do a loaf of bread, if not two loaves of bread in a day. I'm just constantly talking to the kids about, 'Food's got to last.' I've even said to them, 'I'm going to have to start putting food away and drip-feed it to you.'" – Sheryl
Sheryl wishes she had a pantry full of fresh, nutritious food for the boys to enjoy. It breaks her heart when she has to limit what they can eat. But, with the price of food going through the roof, she just doesn't have any choice.
"We really need to make the food that I purchase last, because there's just not the money there to continually go out and replace it." – Sheryl
Like so many parents pushed to the very edge, Sheryl's found out that the family is only ever one unexpected expense away from a financial crisis.
"I had some big maintenance happen around the house. Hot water service and things like that. That took the savings. Then there's back-to-school. You have three kids needing two pairs of shoes each. I'm not going to send my kids to school with bare feet, but that's a massive chunk of money that we just don't have." – Sheryl
No parent should ever be put in this awful situation. Sheryl's situation got so bad that she started going without food so that there was more for her boys. It's something we've been hearing a lot of lately. More and more desperate parents are going from worrying about food to reducing meal sizes – and finally cutting out meals altogether.
Sheryl managed to hide from her children that she was missing meals – but she couldn't keep it secret forever.
"My really close girlfriend who I work with realised something was up by noticing I wasn't eating at work. She would make me call in and get leftovers from her family meals and she delivered some groceries to my front door." – Sheryl
That's when Sheryl realised things couldn't go on the way they were: "I needed to put my hand up and say that, 'Hey, I was struggling.'"
Your generosity can provide fresh food and pantry staples for so many struggling families like Sheryl's. She's optimistic about the future and hopes she'll get a promotion at work, which will help to ease the strain. In the meantime, she knows just how much of a difference your contribution could make.
"Your generosity can help a family that is really, really trying to do everything they can every single day just to keep their head above water." – Sheryl
Every $1 you donate provides two nutritious meals to someone facing hunger like Sheryl.
*Sheryl is a real Aussie in need. Names have been changed to protect privacy.
Help feed hungry Queensland families like Sheryl's