"The flood left our community like a warzone. It was harrowing"
Pastor Phil will never forget the devastation that severe flooding brought to his hometown of Goodna, in Ipswich.
Houses under water. Cars overturned. Power poles knocked over and roads completely submerged. The destruction caused by the recent floods will haunt Goodna residents, including Phil Kennedy, Senior Pastor of Shiloh Church, for decades.
Shiloh Christian Care, the charity arm of Shiloh Church, is one of Foodbank's Member Charities providing vital, ongoing support to local families impacted by the floods.
Floods had come to Goodna before. "Anytime you get heavy rain people get nervous," says Pastor Phil. But in late February 2022, as the rain settled in and got heavier, the collective mood shifted to panic. Streets that usually weren't affected by intense rain were flooding. "That's when the evacuation centres began opening and it spiralled from there," he recalls.
As homes were destroyed and families displaced, requests for food relief skyrocketed. "It was a crisis and people didn't have a Plan B in place from a food perspective," explains Pastor Phil. Either their food had been destroyed in the floods, or they'd been forced to evacuate so quickly they couldn't bring food.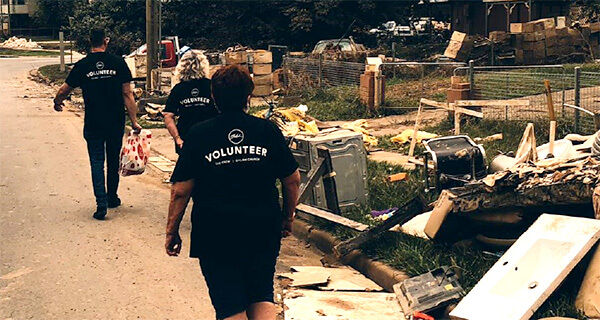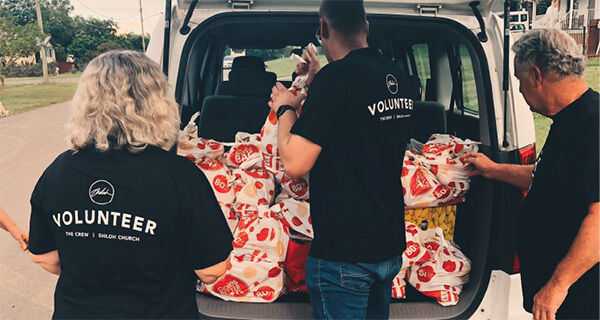 "We had people needing food relief who were already living below the poverty line when their houses went under. But there were also people who normally wouldn't need our services, but due to road closures they couldn't leave their street and couldn't get to food and water." – Pastor Phil
Fortunately, because Shiloh Christian Care was on high ground, it didn't suffer flood damage. The food relief service could still operate. Pastor Phil had to rapidly recruit an army of extra volunteers to help pack enough emergency food hampers for all those going hungry. But unfortunately, there wasn't enough food to help the number of people in crisis.
Thanks to generous people like you, who kindly donated to Foodbank Queensland's Flood Appeal, Shiloh Christian Care received additional emergency food supplies to help families in need, and it made an extraordinary difference.
In a disaster like this, when people are left homeless and don't have access to refrigeration or heat to cook, the right type of food is critical. Pastor Phil explains that many people had only camp stoves to cook on, so they needed food requiring minimal preparation. Things like fruit and vegetables and two-minute noodles were valued. And food that could be eaten on the go for energy in the clean-up, like muesli bars, was very appreciated too.
It was vital that Shiloh Christian Care got emergency hampers to those people most in need, and social media proved critical for success. "People would tag us in Facebook posts and say, 'Hey, people on this street or that street are struggling'," says Pastor Phil.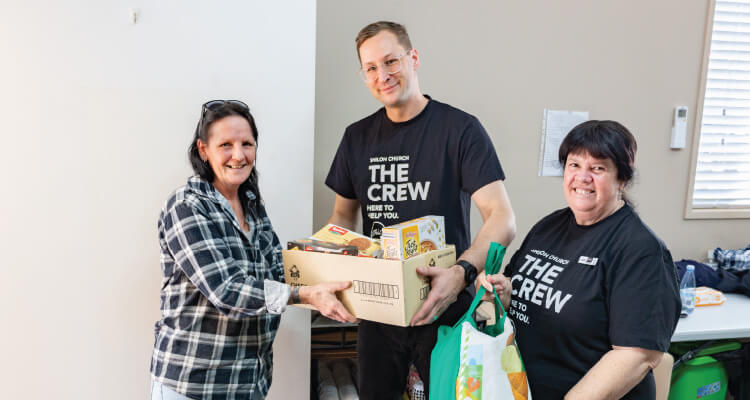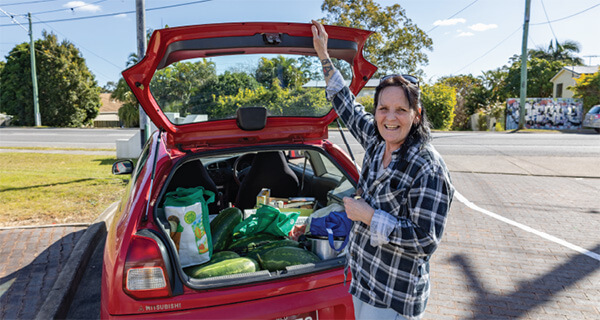 The food you helped fund reached people of all ages. A retirement village was completely cut off, and had no electricity, so a lot of their food had spoiled. "We got permission to go through the blockade and deliver food to them," says Pastor Phil. But because vehicles weren't able to access many local streets, much of the food delivery was on foot. "We'd just knock on doors and say to people, 'Hey, how you doing? Are you okay? Do you need anything? Do you need food?' And a lot of these people really needed food," he said.
Pastor Phil wants you to know that the food you helped his team deliver not only filled hungry bellies – but it did so much more. "For families who had young children, you gave them an emergency hamper, but also dignity, as they could now provide a meal for their children," he says. "You gave people hope too. After people had endured days of bad news, getting an emergency food hamper told them somebody out there loves them and cares about them. When you feel like you're so alone, surrounded by flood waters and rain and all that scary stuff, it's such a powerful thing."
"I met so many people who had been holding it together and been strong for everybody else around them. And when we gave them an emergency food hamper, they would just break down and cry. All the emotion they had been holding just spilled out in that moment." – Pastor Phil
Your generosity helps Foodbank provide emergency food and groceries to frontline charities across the state, like Shiloh Christian Care, to help local families get back on their feet.
Every $1 you donate provides two nutritious meals to someone facing hunger. Thank you for making a difference.
If you are a Queensland charity,  Foodbank Queensland membership is a great way to support your food relief projects, offering your organisation a reliable source of food and groceries all year round. 
If you are in a position to help Foodbank Queensland provide more food across the state to support Queenslanders in need, please consider joining the fight against hunger as a regular giver.