All Stacey wants is to give her son a better life, even if it means going without meals herself.
Stacey didn't think she'd ever have to ask for help – let alone food. Stacey's proud and hardworking. She pays her own way and is doing her best to give her son a happy, healthy childhood. And she's doing it alone – without any financial support.
When Stacey's son Blake was just three years old, her relationship with his father ended badly. She had to raise Blake completely on her own, without any financial support from his father. Stacey and Blake moved to a rural Queensland town to be closer to her mum. In such a small place, Stacey was thrilled to find an admin job at a local supermarket with hours to fit Blake's schooling. It was a second chance for this hardworking mum, who had big dreams of a secure, happy future for Blake. But few of Stacey's colleagues knew her secret: she would often go without meals to make ends meet.
"My son knows we're poor. I think he gets sick of me saying it all the time. I feel like I've failed because these are basic needs that I should be able to cover. It's not something I tell people – I just internalise it and keep on going," says Stacey.
Stacey is grateful to have a job, when so many others in Queensland's regional towns are without one. But like many low-earning single parents, she barely scrapes by. After paying her rent, bills and for Blake's school expenses, there is little money left for food. And what she has goes to Blake, ensuring he has proper school lunches and enough for dinner.
"If I had a bill coming up, I'd usually just have a coffee for breakfast, and go without dinner for a few nights. It just had to be done. Blake needs to do well, so everything goes to him so that he can flourish. As depressing as it sounds, I just want to survive," says Stacey.
When COVID-19 hit, things went from bad to worse. During the pandemic lockdown, Blake had to be home-schooled, and Stacey used up most of her holiday and sick leave to care for him. Then when the next school holidays arrived, she had to take unpaid leave to be with Blake, putting huge pressure on her budget.
"I just wouldn't eat. I'd distract myself from the hunger by watching TV, playing with Blake or cleaning obsessively," she says.
At this lonely, hungry time, something wonderful happened one day when Stacey took Blake to a family fun day. A volunteer from one of Foodbank's Member Charities was reaching out to local families in crisis. Stacey learnt she was able to access regular Foodbank hampers, to help ease some of the pressure – a gift that she's grateful for to this day.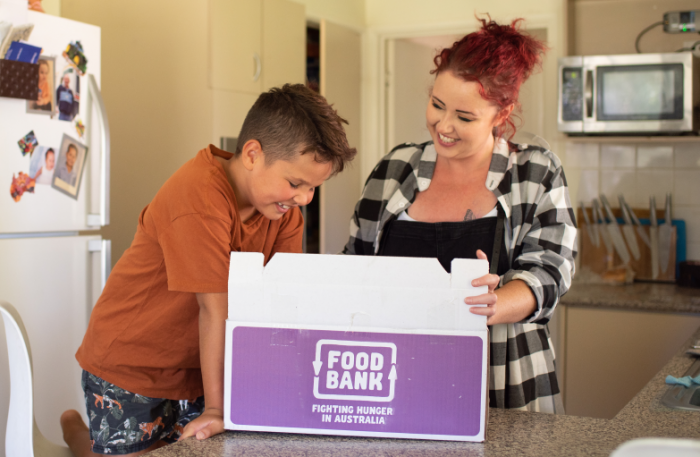 "Going hungry feels hopeless. It's terrifying sometimes. It was just such a relief to know I could receive a Foodbank hamper each month – it makes such a difference," says Stacey.
Today, Stacey feels incredibly grateful for the food hamper she now receives each month – it's much easier to sleep at night, knowing she can eat tomorrow.
"Foodbank hampers have a trickle-down effect. Blake is more focused at school, and everything at my job works out a little better, because I'm not stressed all the time. With the money I can now save, I can afford swimming lessons for Blake, just like his friends," says Stacey.
Many single parents like Stacey know what it's like to go hungry to keep their children fed. Your generosity will give food and hope to hungry families throughout Queensland.
Every $1 you donate will provide two nutritious meals to someone facing hunger like Stacey.
Stacey is a real Queenslander in need. You can help.
HELP HUNGRY FAMILIES LIKE STACEY'S.