When everything that mattered got ripped away, Foodbank supporters gave Melissa hope.
After enduring years of domestic violence, while fighting to keep her family together, one particular incident saw Melissa left with a devastating brain injury. At just 36 years old, and with 5 children to protect, Melissa suffered the loss of her speech, her ability to walk and even take care of herself. Worst of all, she felt powerless to protect her children and because of her injury, they couldn't stay with her.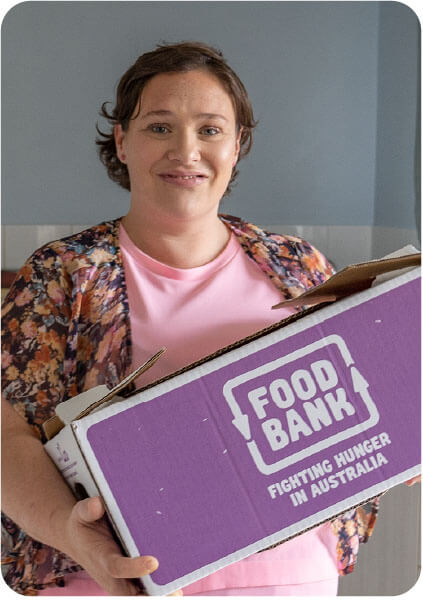 Melissa's ex-partner gained custody of their five-year-old twin boys and three teenage girls. Although Melissa was no longer able to work or drive, she still had to scrape together money to pay the family's bills. She was desperate to regain custody of her children, who she feared were at risk.
Melissa's ex was soon imprisoned, and she was having intense therapy to learn to speak again. By then, she was living in public housing, on a disability pension. As her brain injury caused many limitations, she had an NDIS support worker and her children were living with relatives. She saw them for two-hour visits each Friday – the most precious time of the week.
As Melissa was regaining her speech, she hoped to get a job. She wanted to get her children back and create a stable life. But constant headaches, brain fuzz, anxiety and communication struggles made it impossible. The cost of medications was huge, and every other cent went to food for her children. After years of unimaginable trauma, Melissa was now going hungry.
"Sometimes I wouldn't eat for days, as I wanted to save what little bit of money I had left to provide for my kids during their visits. I was often starving, but my babies would always be happy, so I decided it was worth it." – Melissa
Melissa was living on noodles, Weet-Bix, and bananas – all cheap and filling. Her stomach began to shrink so much she'd feel sick if she ate. In those tough years, Melissa would also try and make food last by hiding it where it was hard to access. She'd go to bed early, to avoid the burning hunger, or drink warm water to fill up.
Not having enough to eat made Melissa feel worthless. "I'd wake in the middle of the night, starving. I was so hungry all the time and I felt scummy. When I'd walk past a café and see people who could afford to eat there, I'd think to myself 'they have it all'." – Melissa
Last year, things felt grim. The hardship was the "worst of the worst", Melissa recalls. But thanks to Foodbank supporters like you, the struggling mum received a knock on the door that changed everything. A food hamper was placed in her arms.
"It was overwhelming. I gave the man who delivered the hamper a card, to say thank you. I didn't feel like I deserved this. In the hamper was everything to stock my pantry full. Things like flour, sugar, cereal, spaghetti, and tinned goods. The hamper was so well thought out. Thinking about it still makes me smile." – Melissa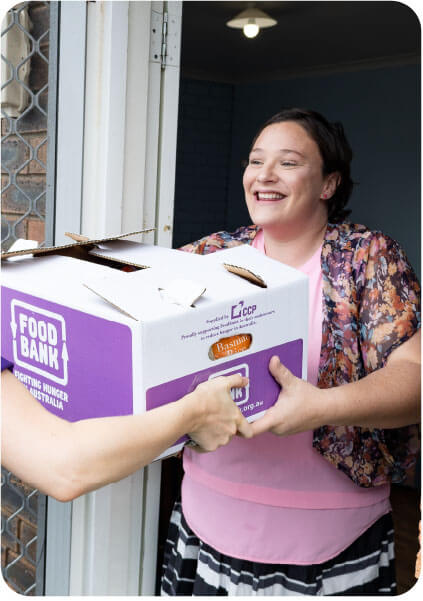 Melissa now receives food support more regularly. The support and nourishment Melissa receives thanks to generous people like you is helping her move on with her recovery, reclaim her voice and build a safe life. She still has a long healing journey ahead but was overjoyed recently to regain custody of two of her children, her twin boys. Melissa has also been busy handing out her resume in town. She is proud of how far she has come and can't wait to get work. "I know what I used to be capable of. I've been told I can't do it. But I've done it." – Melissa
"After what I went through with my violent ex, I felt overwhelmed and distraught for a long time, thinking everyone is bad. But getting help to feed myself has made me realise good people are out there. Some of the nicest ones are strangers who support the work of Foodbank. It feels so good to be able to eat. Thank you!" – Melissa
Your generosity will help families like Melissa's receive the essential groceries they need to get back on their feet.
Every $1 you donate will provide two nutritious meals to someone facing hunger, like Melissa. Thank you for making a difference.
HELP HUNGRY QUEENSLAND FAMILIES LIKE MELISSA'S