The Foodbank team is small and we rely heavily on teams and individuals who generously give their time to help us get food to the people who need it. We have different volunteer opportunities available in each state, if you would like to volunteer select your state below:
VOLUNTEERS ARE OUR KEY INGREDIENT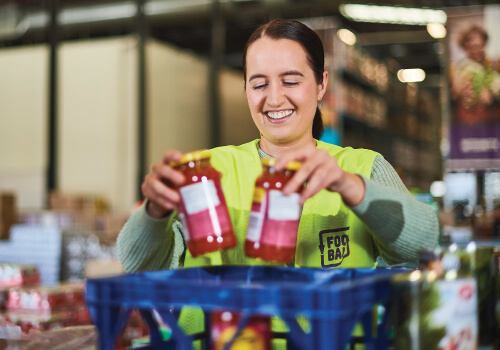 We believe everyone should have access to good quality food and it is because of our dedicated volunteers that we can be there for Western Australians who need a helping hand. Our volunteers come from all walks of life and they love to share their stories about why they came to volunteer.
We are currently looking for passionate and community-minded volunteers to help us. No experience is required and full training is provided. 
To find out more please email volunteering@foodbankwa.org.au. You can also sign up to our mailing list to stay up to date with any urgent volunteering opportunities. 
I am an individual
We have many volunteering opportunities to suit your skills and interest including 
Sorting and packing food in our warehouse

 

Front desk – greet clients, provide guidance on how to shop and process referrals

 

Assisting on checkouts or our Mobile Foodbank

 
Truck drivers, forklift operators

 

Events and fundraising

 

Other skilled volunteering (finance, IT, administration)

 
I am an organisation
We have a small team, so we rely on corporate volunteers to help us sort, pack and prepare food for Western Australians doing it tough.
Whether you're in the warehouse or Community Kitchen, you will make a big difference in helping us achieve our purpose. It is also a terrific way for you to engage your staff, facilitate team-building activities, and most importantly, make a difference in the community. It's a win-win! 
We offer four corporate volunteering options: 
Download our Corporate Volunteering Brochure for more details.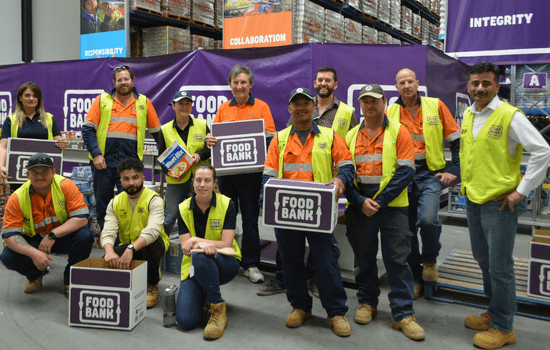 What time do I start?
The day typically starts at 8:30 with an overview of the position and a safety briefing and concludes at approximately 3.00 pm.

What do I wear?
All volunteers must wear steel caps boots and shirts with sleeves. Corporate volunteers can wear sturdy enclosed shoes if they do not have steel cap boots. We recommend long jeans for safety and comfort.
We provide all volunteers with high-visibility vests or aprons if working in the Community Kitchen.
In winter the warehouse gets cold, so it is a good idea to bring a jacket or light pullover.
Do I bring lunch?
You can bring your own lunch or there is a lunch bar approximately 400 metres from the Perth branch on Grogan Road. We have a volunteer kitchen with tea and coffee facilities.