Thank you for helping families just like Kiah's
Thank you for helping us put food on the plates of West Aussie families this Christmas.
Your generous donation will help us provide for those Western Australians who need it most.
There are over 388,000 severely food insecure households in Western Australia. Kiah's is one of them.

Kiah, single mother of three young children, said "Foodbank has really helped as we have been able to manage getting our fresh produce, things that we make for soups and stews. Fruit snacks keep it healthy for the girls. Much better with the fruit and veggies through Foodbank and bulk up our meals through that".
I'm super grateful, I don't know what I would do without Foodbank
Thank you for helping us support thousands of families like Kiah's. Last financial year we delivered over 9.1 million meals throughout the State. This wouldn't be possible without the generosity of our food and financial donors, people like you, and the helping hands of our dedicated volunteers.
I'm very grateful for your help and we look forward to your continued support. Together we can get food to those who need it most.
Yours sincerely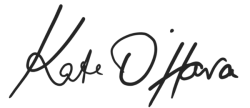 Kate O'Hara
CEO, Foodbank WA