Million Meal Challenge 2023
Thanks to everyone who helped make this Challenge happen
May saw the return of one of our big fundraising events, which is one for the AFL enthusiasts – The West Coast Eagles Million Meals Challenge, proudly supported by Mineral Resources. The event, now in its third year, aims to provide one million meals to Western Australians who are struggling to make ends meet as the cost of living continues to skyrocket. 
The West Coast Eagles again partnered with us through the Million Meal Challenge by raising  much needed funds to assist local families going without every day.  The people in your street, colleagues at work, friends and even family are making the difficult choice between bills and food every day. 
The West Coast Eagles played Carlton at Optus Stadium for the charity match on Saturday, 29 April and thanks to members and Eagles partners, we incredibly raised over $160,000. This will provide incredible food relief impact for those in our community going without.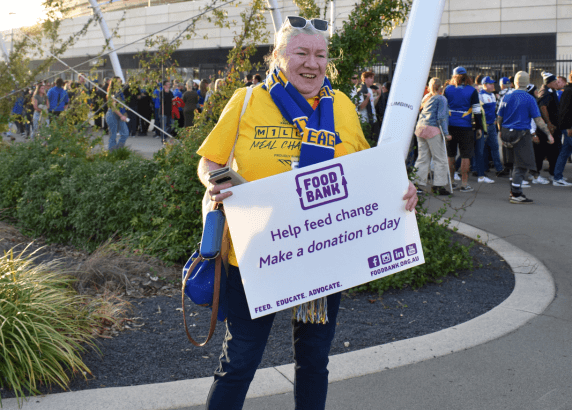 Mineral Resources went above and beyond in connecting the Western Australian community for this event and doubled each donation made up to $50,000, meaning each dollar donated turned into three. This is an amazing show of Western Australian spirit to help thousands of people access food for their families. We are so grateful to the West Coast Eagles and Mineral Resources for helping to change lives one meal at a time.
There's still time to donate