Thanks for bringing it all together
How you've helped out at our events
The last few weeks have been jam packed with fundraising events, which couldn't have happened without our amazing staff and volunteers going the extra mile to help out at the events.
The West Coast Eagles Million Meal Challenge, proudly supported by Minerals Resources, aims to provide one million meals to Western Australians who are struggling to make ends meet as the cost of living continues to skyrocket.
The West Coast Eagles played Carlton at Optus Stadium for the charity match on Saturday, 29 April and thanks to members and Eagles partners, we incredibly raised over $160,000. This will provide incredible food relief impact for those in our community going without. A HUGE thank you to all of you who made this event possible.
Still on the sporting scene, a big shout out is in order for the wonderful staff and volunteers at our Peel branch. We joined them at the Peel Thunder Charity Game Day and raised $3,700. More importantly it was good to meet the local community where Sue, who is a client and volunteer, told her story to around 120 people at a VIP lunch. Thank you to everyone who made this event possible.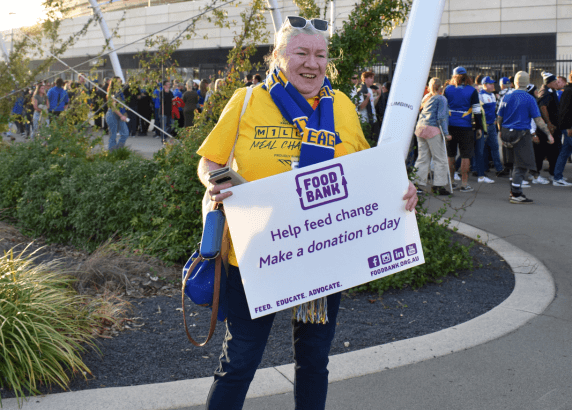 If that wasn't enough for Fundraising, they were also thrilled to host our first Thank You event in three years during the last week of April.
It was a great evening during which we were able to acknowledge the support of many individuals and organisations who provide funds, food supply, their time, their talent and passion to ensure we are able to best serve the community and have been able to provide 7.8 million meals, educate over 5,000 people and tell the stories of those people we support all in the last year.
Thank you everyone for volunteering and working at the Thank You event. It was a massive collaboration and we have received so much great feedback.
Sign up to volunteer today