Tina Lamattina and Josephine Ingle, A&G Lamattina & Sons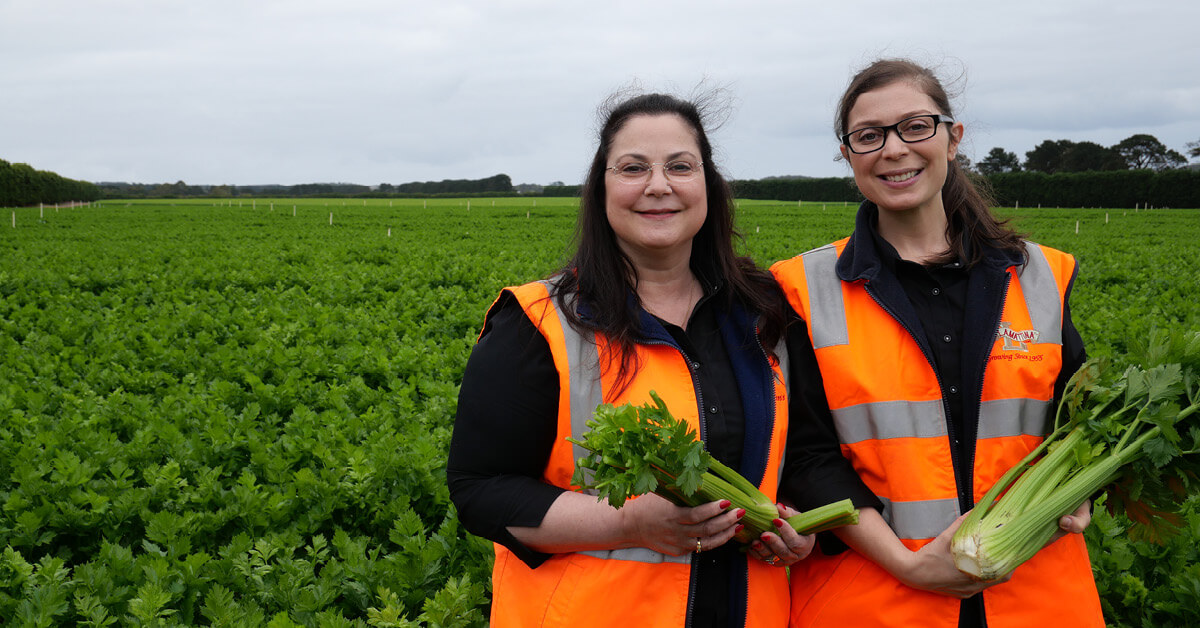 "We're fortunate enough to be feeding Australians fresh, healthy and nutritious food that we are just so proud of. That makes us extremely happy."
This year we're celebrating International Women's Day by shining a light on some of the amazing women that we have the pleasure of working with here at Foodbank Victoria – just like second generation farmer, Tina Lamattina, and her daughter, Josephine Ingle.
Based in Victoria's Mornington Peninsula, A&G Lamattina & Sons are a well-oiled family business that have been growing fresh fruit and vegetables since 1955. Tina, who was once a medical student, swapped the city life for the farm 36 years ago.
"I actually got my apprenticeship with my wedding ring when I married Russell. Russell's parents started the business here in Australia and his grandparents and great grandparents were farmers in Italy."
She shared fond memories of her early years on the farm, saying "the business was a lot different in those days. We basically worked out of the kitchen. Today, we each specialise in a different area. I oversee many aspects of the business, from finances right through to bio-security practices. Josephine looks after the quality insurance and OH&S program."
Josephine, who is a third generation farmer, grew up on the farm,  leaving as a young adult to study, she has since returned to help her family run the business.
"Along with my five brothers we oversee the majority of managerial positions. We have all grown up in the business since a young age. We've all left at some stage to complete our tertiary education. We've all managed to make our way back to the family and take over as the next generation."
When asked what it's like to work together as a family, Josephine replied, "working together as a family is really great. We have the ability to have a heated discussion about certain topics and still walk away loving each other. We understand each other's strengths and weaknesses and we can bounce ideas off each other."
Tina describes herself and her daughter as "stewards of our land," sharing her passion and love for the food that they grow.
"We started the business simply because we love growing veggies, maybe it's just our Italian heritage. Everything we grow has a purpose. If a bunch of celery doesn't make it in someone's basket, we will find another way to use it."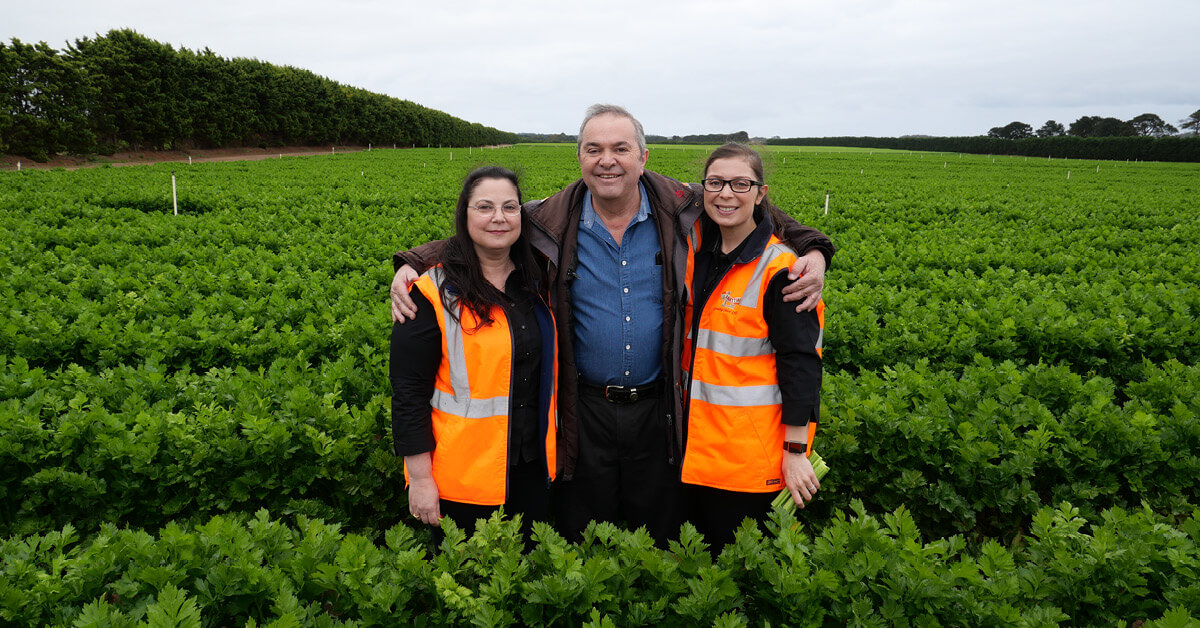 The family were the first in Australia to package celery sticks and hearts into 'on-the-go' products which are still in high demand at supermarkets and retailers across Australia.
"The move to convenience for the consumer has been one of the biggest changes I've seen in Australia. We've evolved with these changes," said Tina.
"We've been growing celery for decades and traditionally we always sold the celery as a bunch. Over the years we found that people were time-poor. They needed something they can fit in their fridge or something convenient like celery sticks that you can virtually eat out of the packet, on-the-go or in a lunch box."
Tina added that, along with changes in consumer behaviour, she has also seen a greater commitment to sustainability.
"As farmers and citizens we are all more aware of our environment and our community, especially in the trying times that we have. Drought is an important issue and water is a very precious resource. We recycle our water and re-purpose waste into green manure, which acts as a natural nutrient for the soil."
Tina, Josephine and the Lamattina family share our belief that all Australians should have access to healthy food. They regularly donate vegetables – including celery – to Foodbank so that our charity partners can provide their communities with fresh nutritious produce.
Click here to read more inspiring stories from some of the farmers and growers whelping us provide vital food relief and support to Victorians in crisis.
Meet our Farmers & Growers